3 Ways a Guest-Centric Hotel PMS Gives Guests & Staff Unburdened Access
What is a Guest-Centric Hotel PMS?
In the context of hospitality, great technology exists to facilitate an exceptional guest-centric experience. And at the center of this technological ecosystem lies a hotel's PMS. A truly guest-centric PMS enables hoteliers to deliver their version of the ideal guest experience by promoting ease of operations, ease of access, ease of connectivity, and ease of staff productivity, while also giving guests the maximum choice in the type of service they desire.
In today's blog, we are going to focus on ease of access: Great technology should be unburdened: it should create the foundation that allows great hospitality to organically emerge. But in order to deliver the ideal guest experience, technology must first provide hoteliers with access 一 Access to their property, to their staff, and most importantly, to their guests. A guest-centric PMS gives hoteliers the accessibility and flexibility to meet guests wherever they are and always maintain a finger on the pulse of their hotel.
1. Break Free From the Front Desk and Access Your Guests Anywhere on Property
Hotel design, and the technology that surrounds it, should be based around facilitating an ease of access for hoteliers and guests. Traditional on-site PMS systems burden their hotels with a centralized front desk that serves as the focal point for check-in and servicing guest requests.
While this arrangement may be technologically expedient, it's far from guest-centric. By placing your guests behind a front desk, you are literally placing a barrier between your staff and their guests, while instilling the notion that guests have to proactively come to the associate in order to handle their requests 一 instead of the other way around. Centralized font desks also create long lines and bottlenecks for check-in. While this was inconvenient for guests even before COVID-19, in the post pandemic era it represents an unacceptable hygienic risk that could be fatal to your hotel's brand.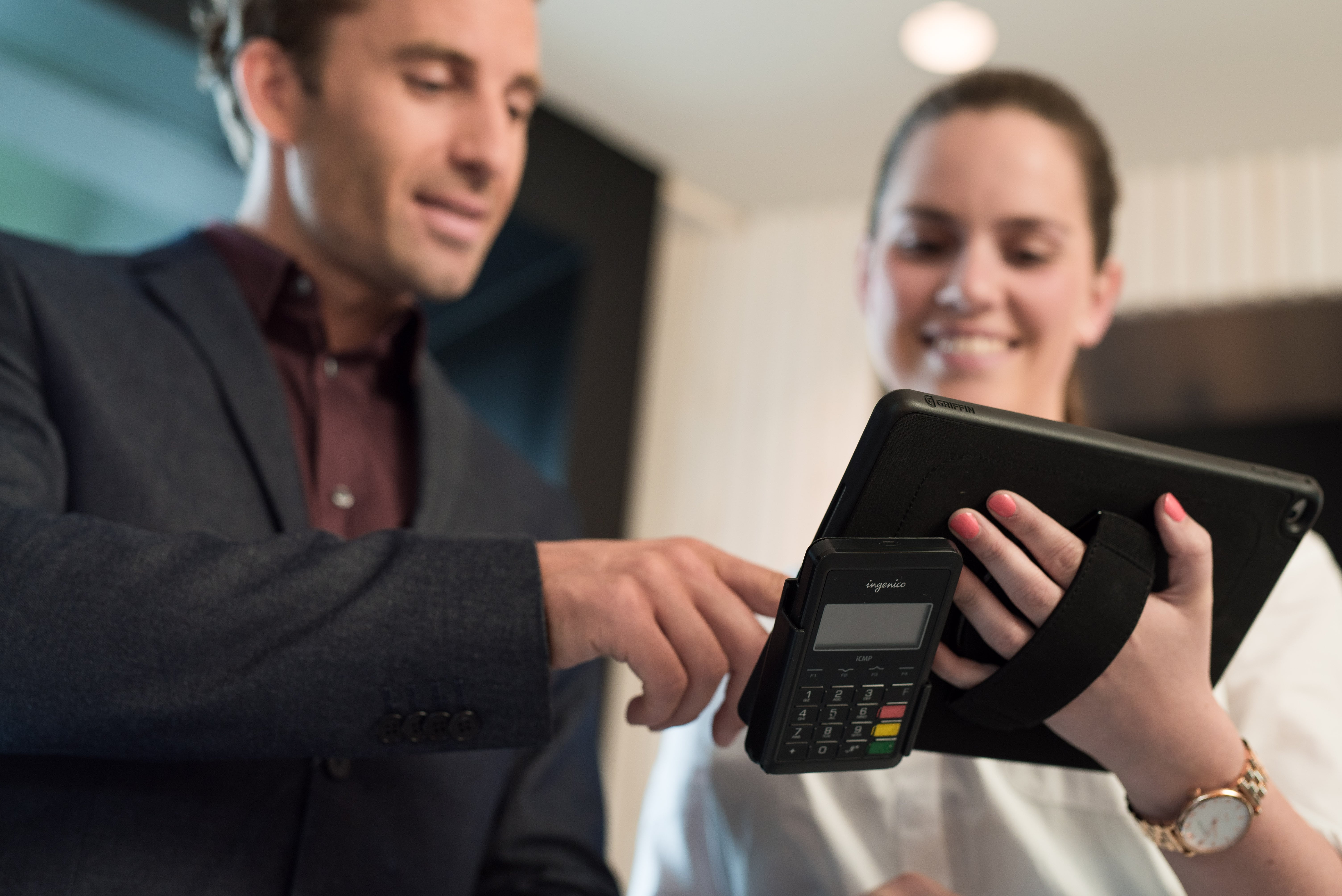 Fortunately, PMS technology has evolved. A mobile, guest-centric PMS platform can run from a tablet, rendering the front desk completely obsolete, and allowing staff to easily access their guests. Now, hoteliers are free to roam the hotel and meet guests where they are, either finding a quiet corner to process guest requests, or showing the guest potential room upgrade or amenities on their tablet while the guest enjoys a drink in the lobby.
Hotel managers can benefit as well: For a general manager, this means having easy access to your hotels key operations and analytic trends right from your tablet. Similarly, revenue managers can instantly respond to sudden market changes on the fly by adjusting rates and restrictions from any device, anywhere in the world.
2. Let Your Guests Access Your Hotel 一 On Property or Off
Your guests' access to your hotel shouldn't begin and end at the hotel door, and it shouldn't be limited to person-to-person interactions. A truly guest-centric PMS will let your guests easily access hotel staff, and personalize their stay from any device, on property or off. A mobile, guest-centric PMS gives your guests the ability to check in directly from their smartphone before they even arrive on property, and customize their stay by selecting any number of automated targeted offers for room upgrades, amenities, or monetized early check-in/ late check-out.
A truly guest-centric PMS delivers even more access to guests once they arrive on property: By integrating with a guest messaging system, a mobile PMS delivers an instant line of communication to your guests, by utilizing the same apps that customers use to keep in touch with family and friends (e.g. SMS, Facebook Messenger, Telegram, or WhatsApp). Mobile messaging gives your guests instant access to associates for any questions or requests, while also giving hoteliers the opportunity to instantly address any issues or concerns before they turn into negative reviews.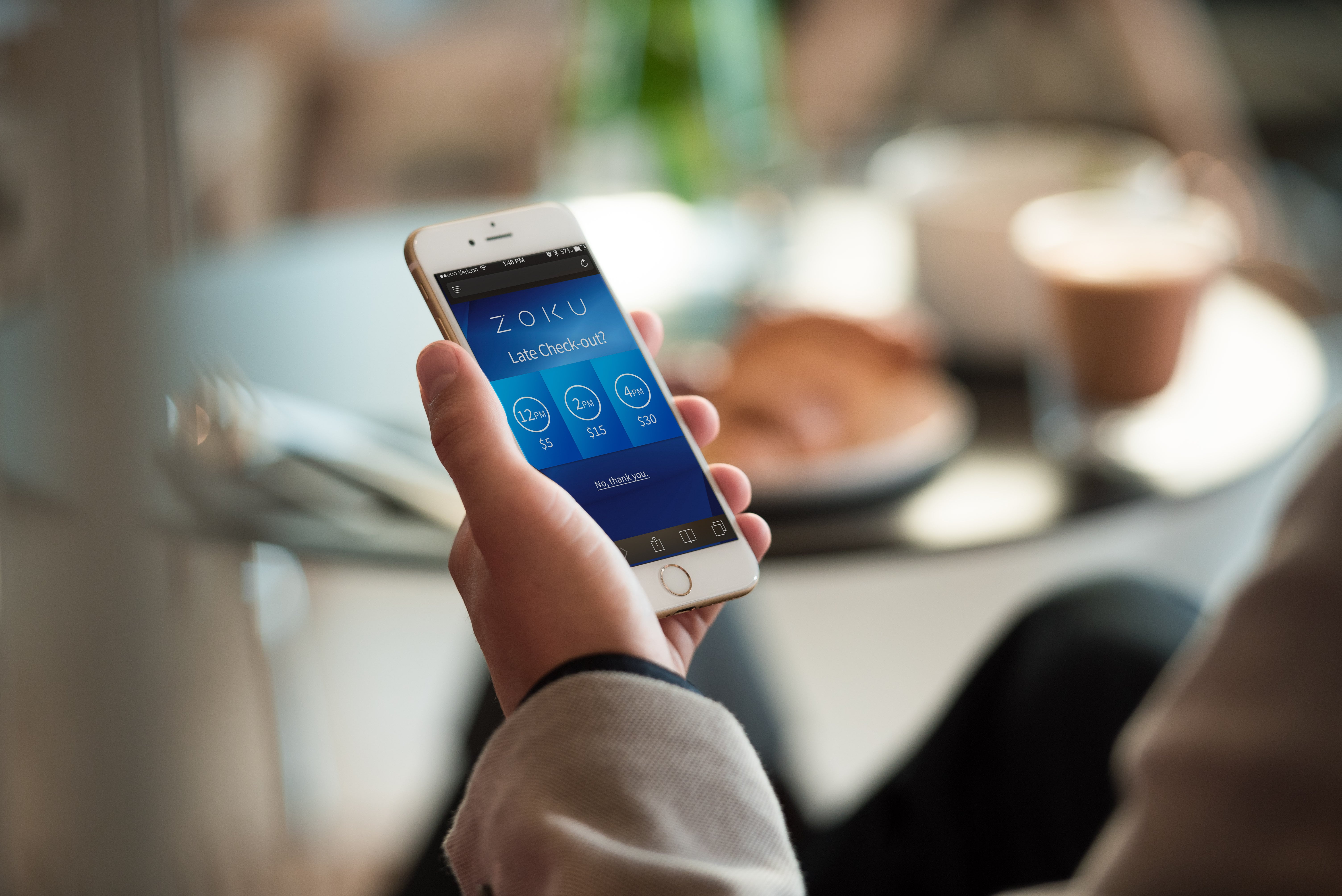 3. Mobile Communication Unburdens Housekeeping Management
Streamlining back-of-the-house operations is crucial in a post-pandemic hospitality environment that expects hotels to deliver enhanced cleanliness with fewer staff and resources. But a hotel cannot create a guest-centric environment if their technology burdens staff communication.
Traditionally, hotels managed their housekeeping teams using a clipboard and walkie-talkie, but this manual approach is ill-suited for the post-COVID era. Requiring staff to manually relay updates creates gaps in staff communication that can result in inefficient room turnover, substandard cleaning, and awkward interactions with guests.
With a mobile, guest-centric PMS however, communication between the front desk, housekeeping and management is instantaneous. Housekeeping staff can instantly make updates to room status on their mobile device and changes are immediately viewable to staff, as are room changes, upsells, early check-ins and late check-outs. Similarly, front-desk agents can send instant action-requests to housekeeping and maintenance, such as requests for meal services, an extra bed, or additional turn down service.
With built-in automation, a mobile PMS can also streamline housekeeping task management, leading to more efficient back of the house operations. Managers can automatically assign housekeeping tasks by hotel section and employee work time, so associates can quickly clean rooms in their geographic proximity and instantly update front desk staff through their mobile device.
A Mobile, Guest-Centric PMS Can Unburden the Guest Experience While Driving Extra Revenue
A guest-centric PMS can greatly enhance the guest journey by enhancing the degree of access between guests and hotel staff. When StayNTouch conducted a client survey, we found that over 50% of your clients' guests opted for a mobile self check-in, and saw their check-in time reduced to about a minute. But even those who chose to check in with the help of a staff member saw their check-in time reduced by up to 75%.
Guest-centric technology will also drive additional revenue for the hotel. When hoteliers can freely interact with guests where they are, they are better able to access the guest in a "buying moment," and engage in natural conversations that drive conversions. Similarly, when guests are presented with vibrant, visual depictions of upgrade options on their smartphone, they can be more easily swayed by the value of their potential purchase. These increased conversion rates can be significant 一 StayNTouch customers have earned up to 240% ROI based on sales of room upgrades and amenities.
More efficient back-of-the house operations coupled with instant room status updates will lead to higher room turnover, and more revenue from early check-ins/ late check-outs. With a mobile, guest-centric PMS, guests who opt for an early check-in can access their room as soon as one is ready, while guests who request a late check-out can avoid an awkward early-morning knock from housekeeping. This effect on revenue can be substantial: One of StayNTouch's larger independent clients achieved a 141% ROI in 30-days solely by effectively leveraging monetized late check-out.
Explore how a mobile and guest-centric PMS can streamline communication and increase access to your hotel by signing up for a free demo today!