The hospitality industry has faced enormous challenges in the wake of the COVID-19 pandemic, including lasting reductions in occupancy and revenue, increased standards in hygiene and social distancing, and lingering apprehensions about travel in general. In response, hoteliers have leveraged technology to reimagine their operations, the relationships with their guests, and even the very concept of the hotel itself. These changes extend to the physical design of hotel lobbies, where hotels must provide a guest-centric environment that is also in line with the realities of enhanced public health requirements. A guest-centric cloud PMS empowers staff with mobility, accessibility and flexibility to reimagine the guest journey and enables hoteliers to deliver an elevated standard of service.
Don't Let Your Lobby Be a Barrier to Exceptional Service
In traditional lobby designs, the guest experience has taken a back seat to the "necessities" of outdated technology. Managing a hotel with a legacy on-site PMS meant that your lobby had to function as a glorified waiting room, with a granite front desk serving as the focal point for check-in and processing guest requests. Here, the check-in process is uniform and inconvenient, forcing the guest to wait in a long line and engage in a scripted administrative conversation just to get on with their stay.
But there are other problems beyond the initial inconvenience: Concentrating check-in at a single front desk creates a bottleneck which can be risky in a time of pandemic social distancing. And when staff are stuck behind a front desk, buried in a computer screen, they are less likely to engage with guests on a personal level, meaning there will be fewer chances to demonstrate the level of service that enables an ideal guest journey.
Reimagining Your Lobby Starts with Rethinking Check-In
A mobile, guest-centric PMS gives your guests a choice at check-in: They can either experience a fully contactless check-in through their mobile device, check-in at any number of strategically placed smart kiosks in the lobby, or be assisted anywhere on property by a welcoming staff member armed with a tablet and PPE. And by sending automated, targeted offers directly to a guest's smartphone, a guest-centric PMS lets your guests personalize every aspect of their stay, including room upgrades, customized amenities, or monetized early check-in/ late check-out.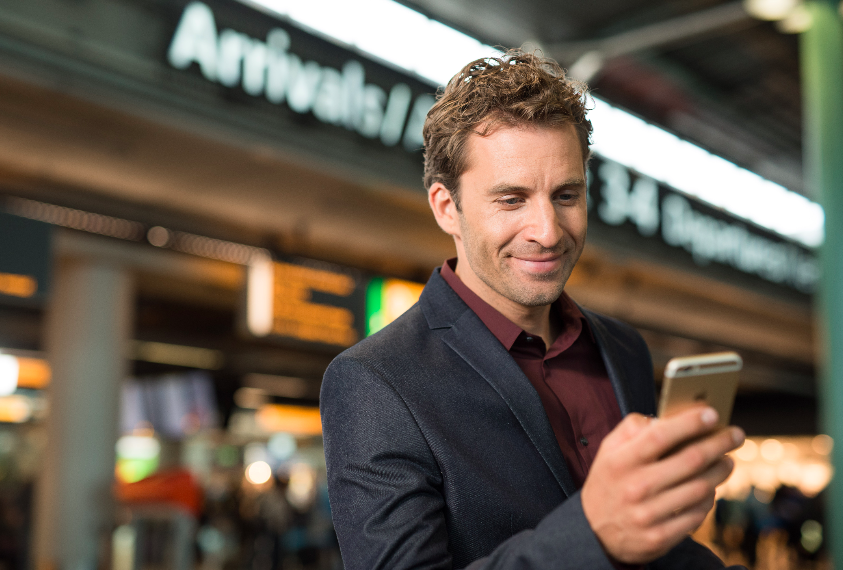 There are numerous benefits to this bespoked, mobile approach: StayNTouch found that over 50% of our clients' guests preferred self check-in when given the option. Most guests were able to complete the mobile or kiosk check-in process in less than 1 minute, and the guests who chose to check-in with the help of a staff member experienced a 70% reduction in check-in time. Sending targeted mobile offers can also become a major source of ancillary revenue for your hotel 一 one of our clients, for example, earned a 240% quarterly ROI based off of mobile upsells alone. And with good reason, according to a study by Skift, 70% of travelers would be more willing to stay at a hotel that implemented self-service technology, while a study by Citron found that 62% of respondents preferred checking in through an app over other methods.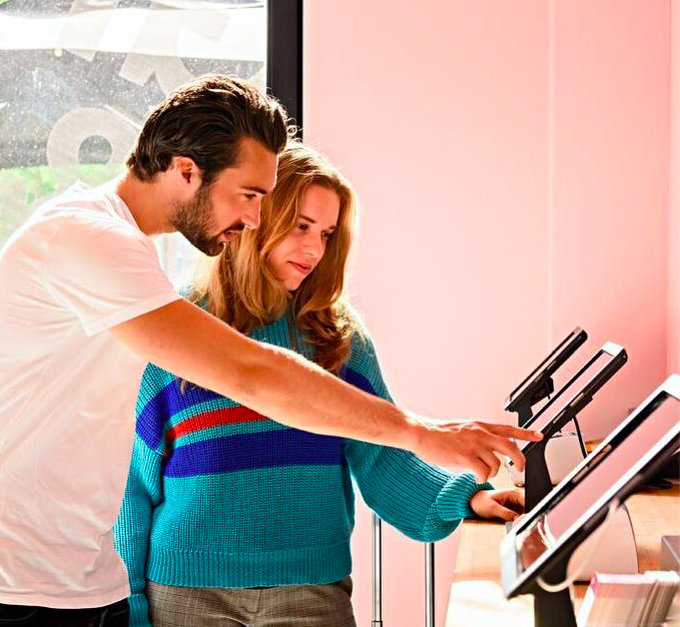 Your Lobby Can be So Much More Than a Waiting Room
When your hotel no longer needs a front desk to process check-ins, you are free to transform your lobby into a guest-centric space that can showcase the ideals of your brand and allow your guests to immerse themselves in the unique experience your property has to offer. Zoku Amsterdam, for example, offers extended stay options in modular, loft-style studio apartments. They wanted their lobby to be bright, green, and a focal point for dining, socializing and co-working. By incorporating a mix of mobile and kiosk-based check-in options, Zoku was able to completely streamline the check-in process and preserve the social nature of their lobby space.
Other brands were able to combine the mobility of self check-in with the flexibility of hourly bookings to create co-working spaces for remote workers and virtual companies. Mint House at 70 Pine, for example, offers a one-stop-shop for remote workers in New York City's Financial District. In addition to quiet working environments with modern amenities, Mint House also offers a Michelin-starred restaurant, a coffee shop, a grocery store, fitness centers, golf simulators and a bowling alley.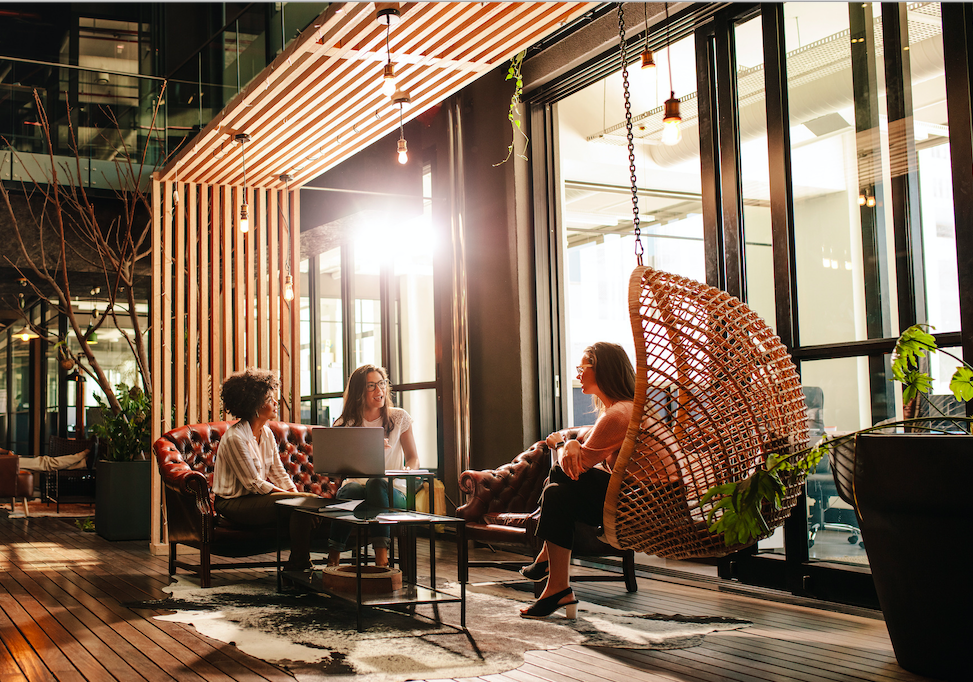 Of course, other brands have incorporated even more radical ideas into their lobby design: Blow up Hall 5050 is a high-end boutique hotel in Poland focusing on the intersection between high technology and avant garde art. Here, guests are greeted with an enormous, immersive art installation, which captures guests' pictures and projects their image in a series of simulated surveillance shots. The "lobby" of Under Canvas Yellowstone is literally the natural beauty of Yellowstone National Park itself. Designed to be the "perfect glamping experience," Under Canvas features "spatially distant, safari-inspired tents" designed to connect guests to nature, while keeping them in the lap of luxury.
Free Your Staff From the Front Desk and Let Them Better Serve Your Guests
When your staff can manage your entire hotel from a tablet, they have the flexibility to move beyond the front desk and engage with guests where they are. And because StayNTouch's PMS has a colorful and intuitive interface, coupled with advanced automation and instant room-updates, your staff will spend less time buried in a screen, and more time reading your guests emotional and contextual cues, leading to more personalized and genuine service. Your staff becomes unburdened, free to welcome your guests with a glass of champagne in the lobby lounge, or have a more natural and engaging check-in dialogue where they highlight your hotel's unique amenities or cater to your guests' special requests.
Make Your Lobby COVID-Ready While Still Enhancing the Guest Experience
Before COVID-19, mobile and contactless technology was seen as a luxury, now they are viewed as necessities. According to Destination Analysts, almost 88% of travelers are either "careful" or "very careful" with social distancing, while numerous regulatory agencies and industry associations, including the center for Disease Control (CDC) and the American Hotel and Lodging Association (AHLA), recommending incorporating contactless solutions as part of a hotel's social distancing policy. Given this paradigm shift in customer sentiment, a check-in process centered on s singular front desk seems woefully out of place. In contrast, a mobile PMS equipped with contactless self check-in can maintain proper social distancing standards, while also facilitating a guest-centric lobby, personalized service and an enhanced guest experience.
Discover how a guest-centric cloud PMS can help you reimagine your lobby and guest check-in experience. Sign up for a demo today!