New data from expense management company Certify suggests that the travel experience is now driven by digital technology, convenience, speed and price. Another more recent study by Oracle Hospitality has revealed that guests want innovative technology that enables them to quickly and easily get the service or information they desire; they want features that are integral to their hotel experience, such as enabling virtual check in/check out, keyless room access, and booking of activities and ticket purchasing – Specifically, guests said they wanted to use a hotel app to do the following: (53%) get recommendations for nearby activities; (47%) request extra pillows/toiletries; (45%) make restaurant reservations; and (39%) order room service.
The continuous growth and innovation in technology has left many established brands dangerously out of touch with the needs of their guests. While some hotels are responding to the demands of the new digitally driven traveller, some are not fast enough and Airbnb is filling that void for many.
Save Your Seat for the Webinar!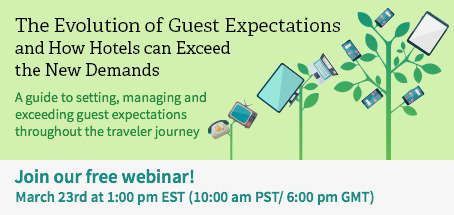 Today, Airbnb is reportedly valued at $13 billion, more than mature players such as Hyatt or Wyndham Worldwide. It has branded itself as a unique accommodation option for traveller and has helped pioneer a market that is radically changing consumer hospitality preferences and behaviours. "One of the key hooks for Airbnb users is its simple yet effective technology. Offering a smooth mobile experience and location-based technology, Airbnb is perfect when on the move, as well as when at home. Hotels on the flipside have struggled to update complex legacy hotel booking software to integrate with day-to-day front desk interactions with guests." Alonso Franco, CEO and founder of Arrivedo.
Guests are becoming more and more time poor, increasingly connected and evermore digital; they want things streamlined. In order to remain competitive and relevant, traditional hotels will have to successfully leverage technology to deliver upon some of the new areas of demand popularized by Airbnb such as choice, convenience and personalization. Some hotels have begun innovating with more convenience technology, introducing check-in on mobile phones allowing guests to bypass the front desk and use their phone for keyless entry. Some are using new messaging features enabling guests to be serviced immediately at any hour of the day.
Similarly guests are now looking for authentically local experiences, real interactions, which are less rehearsed or checklist-oriented but authentic – something that Airbnb thrives on. While traditionally hotels have stayed with the walls of the hotel to push and promote in house products, services and eateries, some hotels have begun to bolster their own apps focused on connecting guests to the local area; Soho Beach House in Miami developed a guide written by local journalists specializing in food, art and fashion. The app doubles as a concierge, enabling guests to make dinner reservations and call Uber. Since its launch over 79% of guests have downloaded the app. Similarly Hyatt Hotels & Resorts' new brand Hyatt Centric empowers employees to connect with guests on a more casual basis, offering local tips not unlike an Airbnb host.
Ultimately the underlining theme here is; technology plays an integral role in helping guests have a more efficient and memorable stay. "Rather than worry that greater reliance on technology will erode the human aspect of hospitality, hoteliers need to embrace it for what it can be – an invaluable tool to better understand their guests and orchestrate stays that they will long remember," said Jay Upchurch, Vice President, Oracle Hospitality. "Technology can address the industry's dual challenge of operating efficiently at scale and simultaneously providing individualized service."