Making Profitable Decisions with Comprehensive Reporting & Analytics
Improve your Hotel Management with StayNTouch Cloud PMS
The recovery from the COVID-19 pandemic has presented hoteliers with enormous challenges, and a few unrealized opportunities. On one hand, hoteliers face sustained reductions in occupancy and revenue, necessitating shortages in staff and resources. On the other hand, emerging technologies and new patterns of customer behavior have given hoteliers the opportunity to capitalize on entirely new market segments and revenue streams.
In order to succeed in this new normal, hoteliers must harness the right data at the right time to streamline their operations and maximize every guest opportunity.
StayNTouch Cloud PMS can help you maximize your revenue and brand performance with:
A Robust Reporting Module & Analytics Dashboard
A Complete 360° View of Hotel Occupancy
Actionable Guest Data
All Important Operational Metrics
It Shouldn't Take a Data Scientist to Harness Your Hotel's Data
The PMS is the heart of your hotel's technology ecosystem, making it an invaluable repository of occupancy, market, and guest profile data. This data is actionable when visualized in a way that easily uncovers insights and patterns. Within StayNTouch Cloud PMS, hoteliers can easily access, analyze, export and present all of the data on their hotel's performance and operations.
Dashboards and reports run in the cloud and are designed to be viewed, saved and and shared on a mobile device一meaning you'll never have to manually print or email static documents to disseminate data. It's also simple to schedule automated reports based on frequency and time of day, and export data in a number of common file formats, including graphs and pivot tables.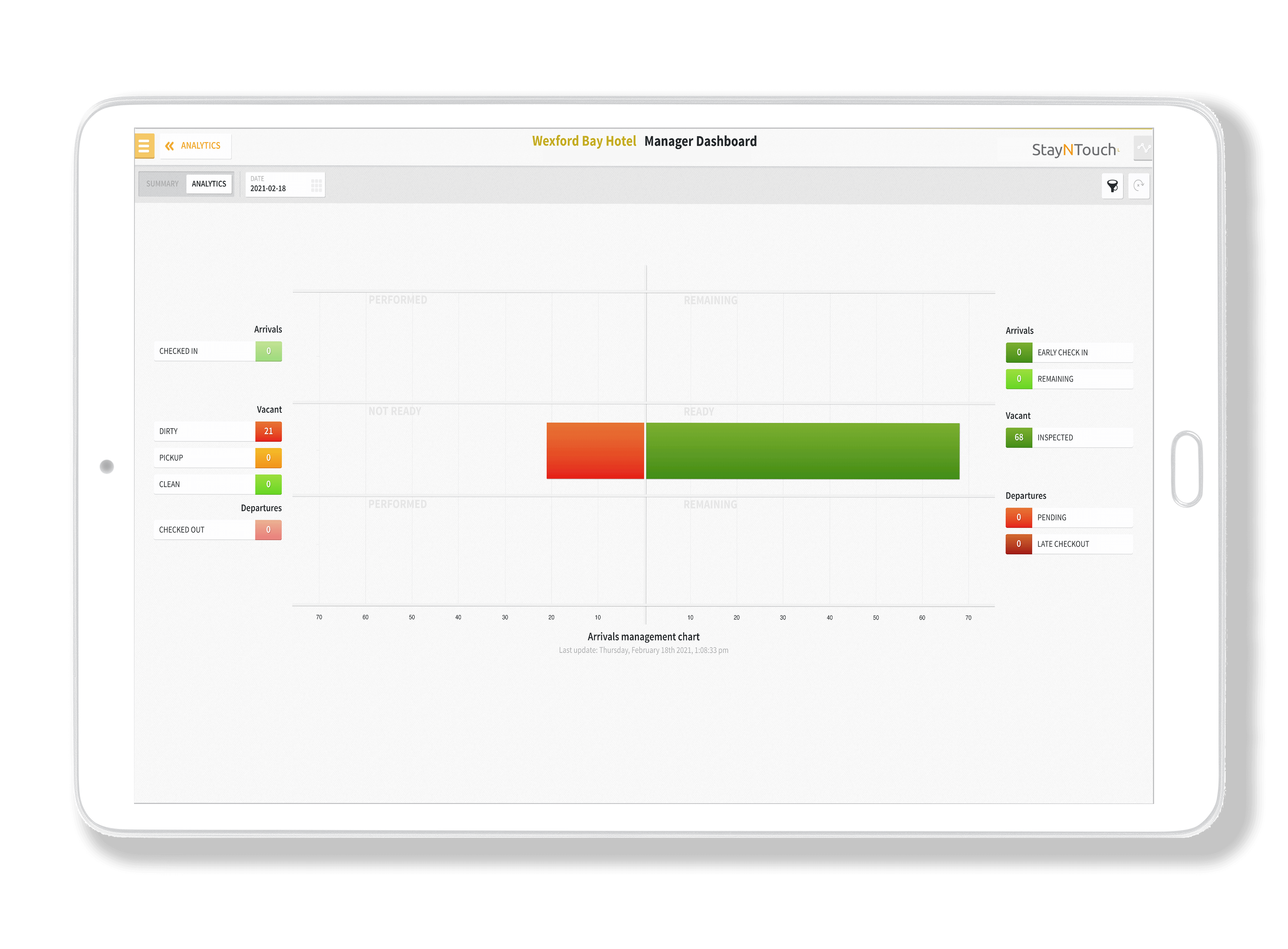 Streamline Your Back-of-the-House Operations with an Intuitive Analytics Dashboard
Hoteliers using StayNTouch do not miss the radios, clipboards and spreadsheets that were formerly critical tools for hotel operations.
StayNTouch's Analytics Dashboard allows housekeeping, front desk, and managerial staff to view detailed, real-time statistics on their relevant departments. Intuitive dashboards cut through the noise of excess data and allow you to hone in on information you need to manage your property. You can interact with your data directly, enabling you to do everything from setting price strategies to prioritizing cleaning schedules directly from the dashboard. StayNTouch suggests optimized schedules that can be easily adjusted by management.
Housekeeping staff can effortlessly shift between viewing the status of rooms for the entire property, and viewing the status of priority arrivals and departures. Front desk agents also have instant access to room status, but have an additional panel that measures arrivals, departures, and individual workloads over the course of a day.
Hotel managers have access to dashboards outlining Room Performance, Distribution and Pace, giving them a real-time, bird's eye view of their property's performance, so they can react to changes in demand on the fly. Room Performance informs quick decisions on booking and rate strategy by comparing occupancy, ADR and RevPar across time on a single screen, while Distribution lets you aggregate your business mix by room type, market segment, or source. Pace helps managers adjust rates and availability by showing booking activity over time for a particular day.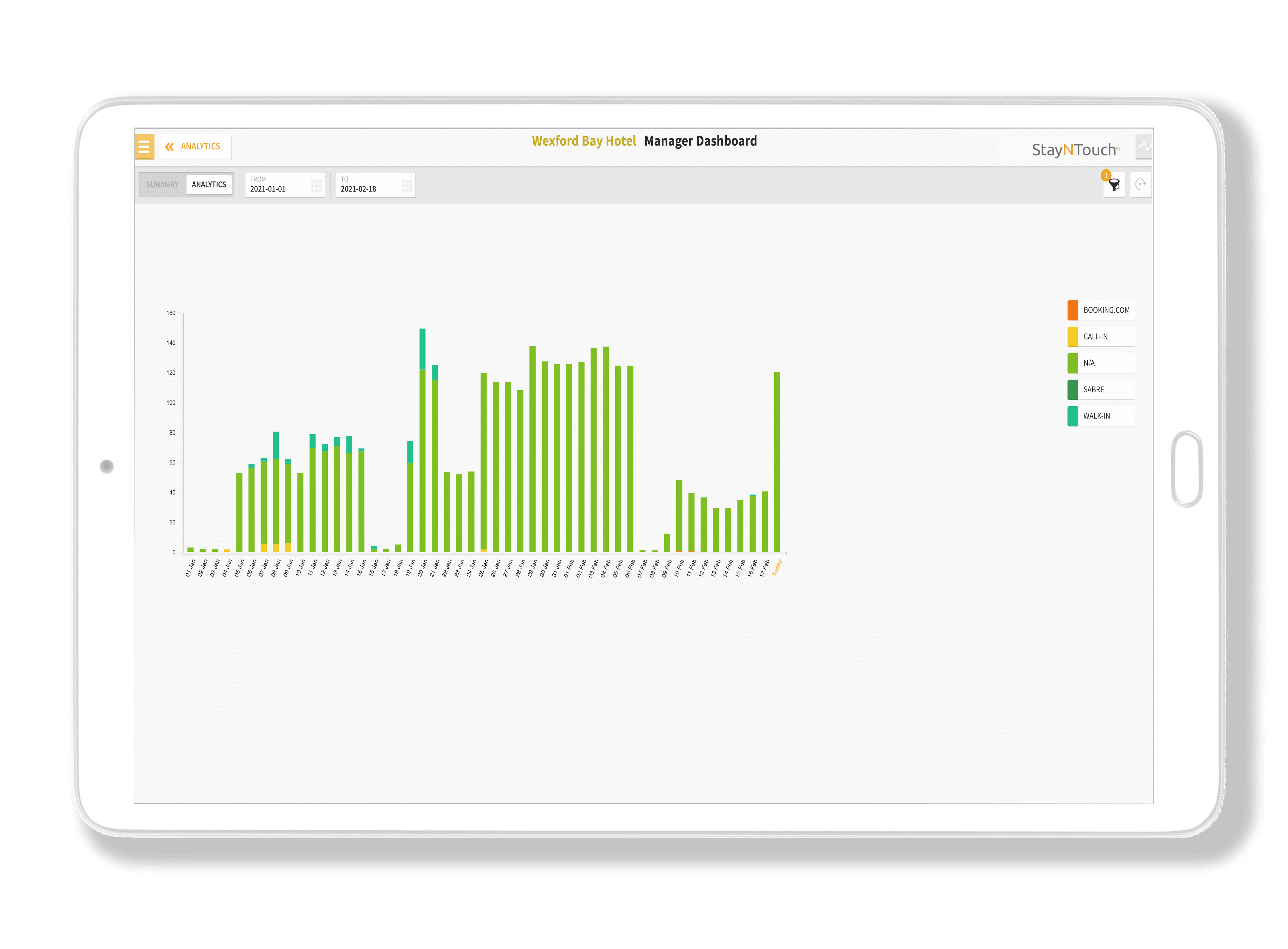 Use Comprehensive Reporting Module to Gain a 360° View of Your Hotel's Distribution and Occupancy Trends
StayNTouch's Reporting Module allows you to quickly generate a variety of customized reports. Like the Analytics Dashboard, the Reporting Module is designed to be colorful and intuitive, and features customized reporting filters, as well as customized reports which can process data in real-time. You can view and compare daily production by room-type, rate, market segment and origin, and quickly generate forecasts for both single and group occupancy.
Unlock Your Guests' Total Revenue Potential by Tracking Upsell Revenue
With occupancy rates still well below their pre-COVID levels, it's critical to maximize the total revenue potential of each guest. StayNTouch's Guest Mobility and Guest Kiosk solutions let you increase ancillary revenues by sending automated, targeted offers for amenities, room upgrades and monetized late check out/ early check-in directly to your guests' mobile device.
StayNTouch Reporting Module lets you analyze room upsells from one room-type to the next, and both view and forecast revenue from both amenities and late check-in/early check-out, as well as the conversions from mobile-based check-ins/check-outs. Targeted and actual upsell revenue are also posted directly to the main PMS dashboard, so your entire staff can be focused on meeting your revenue goals.
Discover how StayNTouch Cloud PMS can help you maximize occupancy and revenue, and give you a 360° view of your business by signing up for a demo today!