There is no doubt that self-service is the currency of our time. It's also true to say, like many new technological developments, the hotel industry has been slower to adopt self-service compared to other sectors; for example, airports and airlines have literally have been 'on board' for years. With smartphones only in existence since 2007, they have been utilizing and relying on the capabilities of mobile as an indispensable tool; from airport luggage drops to check-in, boarding passes etc. According to Forrester, 86% of all airline passengers now use self-service check-in and since 2014, 100% of airlines are invested in the mobile space (The Airline IT Trends Survey).
LISTEN TO THE PODCAST
With self-service so readily utilised in the airline industry and other sectors, such as banking, entertainment, daily commuter travel etc. consumers are all too familiar with the concept. Similarly, with the rapid technological innovations in the past 10 years, our customer expectations have been set by the immediacy of mobile; we have become less patient, want more control and expect instant gratification. Customers will now gladly adopt new technologies and serve themselves if it means they can avoid waiting.
So due to the combination of our increased adoption and use of mobile and the utilization of mobile by other industries, a fundamental change in our consumer behavior has resulted which has also shaped our expectations of our interactions with brands, products and services. As a consequence, and as noted in a Cornell University Study, "Personalizing Guest Experience through Technology", "regardless of hoteliers' ability to keep pace, customers are beginning to expect these services [hotel self service]". "Guests are experiencing and expecting it more and more in their everyday lives, and hotels need to adapt," Matt Allard, CEO of Runtriz.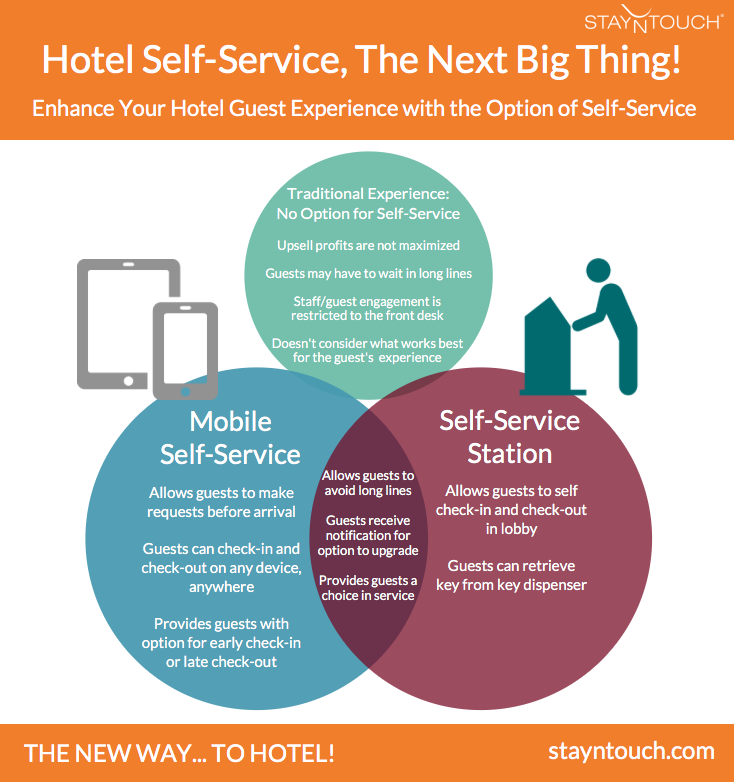 Fortunately, all this information hasn't fallen on deaf ears, and the hotel industry has finally started to see the improvements to customer service, overall guest satisfaction and the potential cost savings that self service mobile technology can provide (all topics that we have visited and talked about on more than one occasion on our blog!).
Self-Service technologies enable both customisation and standardisation, and those that have already adopted and embraced self-service technology are reaping the benefits. Not only does it allow for an efficient speedy self-check-in and out process but it also alleviates pressure on front desk staff during busy periods, enables easier data access for customer profiling and improved revenues through customized up selling. It cannot be stated enough how hotel self-service technology can aid flawless customer service execution by supporting accurate and updatable guest preferences. With sophisticated guest-history data tracked and recorded in real time, hotels can satisfy each customer's needs. As a result of such high customized service interactions, guests feel unique and treated as an individual, improving overall satisfaction and creating customer loyalty – while at the same time contributing to improved revenues!
As a side, hotel self-service is also having ripple affects in other areas of the business i.e the lobby is being reimagined, in terms of function, layout and design. The front desk for some is slowing fading into the background and the lobby is receiving somewhat of a makeover; staff are greeting guests on the lobby floor rather than from behind the reception desk, they are spending more time creating closer relationships, adding to the guests' hotel experience and being more customer-orientated. "It is styled to look like the living room of a very well-travelled person," Robin Chadha, MO, Citizen M. "Some will just walk through; others can use it like an extra living room space during their stay. The key is to provide a really good service with top staff but in a completely unstuffy, relaxed and informal way." Dan Visser, Sales & Marketing Director, Brimstone Hotel, Lake District.
As more and more guests want control over their hotel experiences along with real time personalization, hotel self-service is not just 'the next big thing'; it's fast becoming a new standard. Proactive, forward thinking hoteliers will not only improve customer satisfaction but they will also decrease their operational costs, speed up service expectations, and help improve that all important bottom line.
Read more about  Hotel PMS Solutions in the StayNTouch blog.