Nobody can deny the impact and influence online travel agencies (OTAs) have on global travel and hospitality, connecting millions of travelers to hotel rooms online every year. However, unless you work within the hospitality industry you are more than likely unaware of the complicated love hate relationship that hotels' have with their OTA partners. While OTAs are certainly friends their relationship cannot be categorized as black or white, it is a bit grey and comes at a price.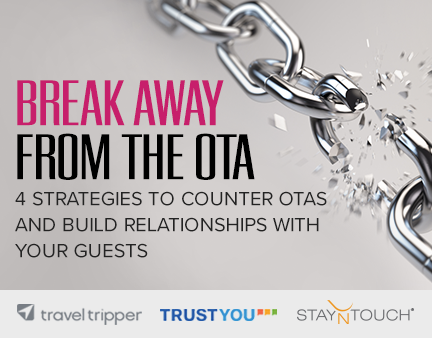 OTAs really took off and grew in the early 2000s, at a time when the travel industry was trying to cope with a downturn in both leisure and business trips. They became the marketplace for air and hotel suppliers trying to offload huge amounts of unfilled inventory – and they were successful at filling that need. However once things started looking up hotels soon realized they were locked into contacts with terms and conditions that left them at a costly disadvantage. While they added to the top line revenue when needed they charged a high commission percentage as payment or as they would put it, as a reward for doing so. At the same time, contractual arrangements meant hotels had to adhere to strict rate parity clauses that prevented hotels from offering a lower rate on their own website than those advertised on OTAs, OTAs also began launching strong SEM campaigns bidding for top search spots arguing that this enabled them to enhance and promote your business (all wrapped up to make it sound like they are doing you a favor!) while at the same time contributing to hotel brand dilution.
OTAs and their 'competitive' ways have come under fire in more recent years as hotels look to gain back some control of their inventory. The rate parity clause has come under scrutiny in many countries, in particular Europe where it was deemed uncompetitive. But while this might seem like a win, it is a small one. OTAs are well known and used by travel consumers, so much so, there is a perception by consumers that you will get a better "deal" on an OTA than you would booking direct – a study cited by Tnooz last year showed that a whopping 75% of consumers believed they get the best hotel room prices by booking through OTAs (not something a hotel revenue manager wants to hear!). OTAs also have much bigger marketing budgets that allows them to invest more in the latest online technology for better user experience and also allows them to do much more advertising – making it much tougher for hotels to compete on an even level.
It's safe to say OTAs command a lot of power when it comes to online travel bookings. And they are able to do so as the majority of OTA brands are owned by only two main players, i.e. Expedia and Priceline. Expedia owns thousands of online affiliates, including Trivago, Travelocity, Hotwire, Hotels.com, Egencia, CarRentals.com, Classic Vacations – controlling 75% of the online travel marketplace. Priceline owns Kayak, Booking.com, Agoda, Rentalcars.com as well as thousands of online affiliates. Between them, they control the lion's share of the online hotel booking market (95% to be exact!).
So what's the big deal? Overwhelming the majority of consumers (74%) are unaware that when they are searching for accommodation through OTAs, they are just comparing between the same two companies, something The American Hotel & Lodging Association (AHLA) is not so happy about. They believe, due to OTA's ambiguity / lack of transparency regarding their true identity, they are creating "false choices" for consumers by operating separate brands and as a result have recently launched a new Search Smarter consumer awareness campaign aimed to put a halt to what it describes as misleading marketing strategies by online travel agencies and travel search sites. "Transparency, consumer choice, and guest satisfaction are at the core of the hotel industry's business model. AHLA is raising awareness among consumers."
While this may seem like another small win for the hotelier, whether this will actually make any difference or influence over the booking habits and preferences made by consumers on how they search and shop online remains to be seen!