Hotel Housekeeping App: So Long Clipboards, Hello Technology
We have spend most of our time on this blog talking about mobilizing your hotel software for guests, enabling mobile check in and out for both your guests and staff. These options can add some nice up sell opportunities to a hotels bottom line and offer great service enhancements. But today's hotel software offers mobile opportunities not only for the front of house, new cloud based vendors also offer simple hotel housekeeping apps and mobile web, to increase staff efficiency and reduce cost.
It's a daily routine in most hotels, maids on the look out for rooms to clean, guests leaving late, which leads to the always annoying morning knocks on the guests door. The guest feels rushed, while the maid looses valuable time , trying to find the next room to clean. Once a room is found; Is that the right room to clean? Might another guest already waiting for his preferred room? As soon as the maids and housekeepers are out on the floor they rely on their clipboard with the printed reports. These reports are out of sync with the hotels real inventory and room status, the minute they are printed.

Hotel's can gain a great operational advantage from implementing mobile housekeeping app solutions. Maids can potentially use their own smartphone to login into the "PMS" and check which rooms are ready to be cleaned, change the status of the room when they are done from dirty to clean, or check the guests name, before knocking on the door.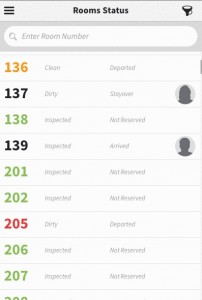 (The above screens show room number, house status, reservation status and the guest name with VIP marking, great info to have on the go!)
A good mobile housekeeping app is affordable, simple to use and ideally does not require proprietary devices. A few simple mobile pages, that summarize the information needed, with some simple filters to limit results to the floors or room types, and a button to change the room status, can already create significant operational help. No more calls to the front desk, to check on room status, which allows front desk agents to focus on the guest. Floor supervisors can stay on the floors and get the latest rooms to be cleaned, and if guests have left without checking out, housekeeping can "check out" the guest.
Rooms turned around quickly, means the next guest does not have to wait for a clean room, and a good and fast check in experience, is great for the reviews ratings. Housekeepers spend about 10 to 15% (labor cost reduction) trying to find the next room to clean, with that information in the palm of their hand, they can simply go and clean the next room. The right hotel PMS or PMS overlay will help both the hotels top and bottom line, a win-win!
By Jos Schaap, CEO-Founder, StayNTouch, Inc.