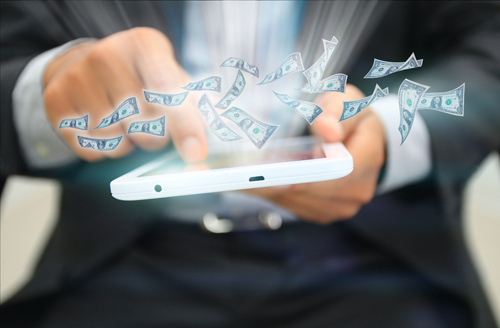 Smartphones and other mobile gadgets have become omnipresent and are changing the ways we communicate and do business. With the right technology tools in place, hoteliers can increase their revenues and cut costs. Here we highlight 3 ways mobile technology for hotels can, and is, increasing revenue.
Via Guest Satisfaction + Loyalty: Positive guest experiences and overall satisfaction are profitable; creating an unparalleled customer experience is a cost effective way to help drive revenue and loyalty. According to the Harvard Review, customers who had the 'best experience' spend 140% more compared to those who had poor experiences, and 78% of consumers have bailed on a transaction or not made an intended purchase because of a poor service experience (American Express Survey, 2011).
Forrester Research also suggests that customer experience and satisfaction is highly linked with loyalty – something that cannot be underestimated in the hotel industry. On average, loyal customers are worth up to 10 times as much as their first purchase (White House Office of Consumer Affairs) and studies have shown that improving customer experience can increase annual revenues by more than $1B for large hospitality companies.
So, if we were to correlate all that information into today's scenario, it's technology that is a critical determinant in hotel guest satisfaction. Guests today expect a "high tech, high touch" experience. They like convenience, efficiency and personalisation, they want to be self-sufficient and are interested in utilizing technology to achieve this.
The ability to self check-in is one such example/area where guests want more control over and directly relates to guest satisfaction; according to the Software Advice Industry Review 2015, a combined 60% of respondents said that they are "more likely" to choose a hotel that allows guests to check in and open doors with a smartphone than a hotel that doesn't. Providing self check-in and out options cuts customer wait times and decreases the inevitable frustration that comes with being stuck in line. After Fontainebleau Miami implemented the option of self-service check-in, their guest reviews and satisfaction on resort arrival/check-in experience improved notably. "Customers are used to A.T.M.s at the bank instead of tellers, checking in for airplane flights online, and they are now looking for that same efficiency when they arrive at a hotel, No one wants to wait in line for the front desk anymore," Tyler Craig, VP & GM NCR Corporation's Travel Business.
Hotels are always looking for ways to increase customer satisfaction by providing value, convenience and comfort. Implementing new technology can help accomplish this while also helping to increase that all-important bottom line.

Boost Ancillary Revenue: In the past, ancillary services were often (and in some cases are still) overlooked; the usual suspects of standard "add-ons" were practically the same industry wide, from chocolates and champagne to flowers and limousine services. Guests were limited in their options and products and/or services were rarely bought or sold by guests and staff alike. According to PhoCusWright, in 2011 U.S. hotels sold approximately US$1.85 billion in ancillary products and services, which accounted for 1.7% of the country's total hotel revenues – when compare to the airline industry's total of $12.5 billion (12%) in ancillary revenues in the same year, hotels are substantially underselling their add-ons; a wasted revenue opportunity.
However according to PhoCusWright, with the advancements in cloud, data and mobile technology, together they can accomplish an increase in the visibility of ancillary products and services at each point of contact with guests. Hotels with their own app or mobile website can now promote real time offers and sell customized relevant ancillary products and/or packages to the right customers, at the right time in their journey and at their moment of decision (all based on the availability of those additional streams on a hotel-by-hotel basis!). As a result hoteliers are becoming more savvy and creative with their offerings; anything that can be identified as something that guests may want, can be and is being sold as an ancillary product or service. When Fontainebleau Miami provided and prompted a "Late check-out" option to guests on their mobile service, they saw, in the first 30 days, a substantial 141% increase in revenues from extended guest stays/late check-out!
The possibilities of promoting and selling ancillary services have been exponentially enhanced by mobile. Not only does it makes the decision-making process easier and more personal for your guest but it adds a viable revenue stream to your business.
Streamline Operations: While it may seem that technology conversations are constantly focused on the guest (after all that is the business of hoteliers… guests!) sometimes it's easy to forget about the back off and the how the day-to-day operations could do with a bit of a technology upgrade.
Legacy technology is not unique to one or two hotels – it seems to be a running theme, and speaking from a technology point of view, it seems crazy not to update systems to more modern efficient technology. But we know all too well that a hotels PMS makes up the backbone of the business and switching or "moving-on" can seem like a daunting and expensive task. However, the pros certainly out-weigh any (if there are any) cons. Technology and smart routines can be used to save time and money but also to sync operations, which improves business efficiency.
Cloud computing has the potential to cut 50% of operational costs. Not to mention cloud storage constantly backs up data, so network meltdowns or computer crashes won't be as detrimental. In addition to the cost savings that are to be made by switching and upgrading, there are added operational benefits. New applications allow for more efficient communication between systems and departments; housekeeping schedules can by optimised, they can see which rooms are occupied, need attention, and respond to guest requests all through software on a mobile device at the palm of their hands. Housekeeping can have remote and real time interactions with front office staff regarding room status resulting in streamlined check-in / check-out at reception, increased room attendant productivity by 20%, and eliminating 80% of calls made to the front office.
By saying goodbye to your legacy systems you could cut down on your operational costs, increase productivity and indirectly increase your guest experience and improve the perception of your brand.
To truly engage and convert the new mobile traveller, an always-connected self-sufficient individual, hoteliers need to embrace the technology these consumers use. With the right technology tools in place, hoteliers have the opportunity to streamline operations, increase productivity, increase revenue for hotels, engage with guests in real time and provide a personalized experience all resulting in increase customer satisfaction and higher profitability.
By: Jeff Kessinger, Sales Director at StayNTouch

/>