Article
How Hotels Can Leverage the Psychology of Impulse Buying to Capture More Revenue and Enhance the Guest Stay
In the first scenario, you fill up your cart and head for an open check-out lane. In the span of a few short minutes, you're out the door and unloading your haul into the trunk of your car. In the second scenario, you fill up your cart and head for the check-out — only to be met with a massive line. After 10-15 minutes of standing, elbows perched on the cart while staring at its contents, you start to second guess that impulse item. Do you really need it? Is it worth the additional cost to your total spend when you just came here for a few things? With time still left to spare, you decide to ditch that item and limit your purchase to the products that you came for initially.

Sure, this may not be a perfect science, but it's a typical scenario explored as we consider the psychology behind impulse buying. In fact, this is a concept that modern ventures (such as the Amazon GO stores popping up throughout the U.S.) are capitalizing on, by making the check-out process as fast and seamless as possible to ensure customers don't have any time to second guess their buying decisions. When customers don't have to worry about lines, pulling out cash or plugging in their pin numbers, the shopping experience becomes a process of harmonious, instant gratification. Think of it this way — is an individual more likely to make it from point A to point B if the distance between those points is short, or long? The easier the path to purchase is, the easier purchasing becomes.  And it's not just about a seamless purchase process — it's also about the way items are sold to the consumer. Most of us are, consciously or not, driven by loss aversion and the desire to save. Not only do we not want to miss out on a great product/experience or perceived value that may be fleeting or limited in nature, but we love a good deal. If we see a bottle of shampoo listed for $5, that offer in itself might not peak our interest. However, if we see that same shampoo bundled as 2 for $10 (for a limited time only), that messaging is much more likely to trigger our desire to capitalize on a deal. This is what we like to call "opportunistic purchasing."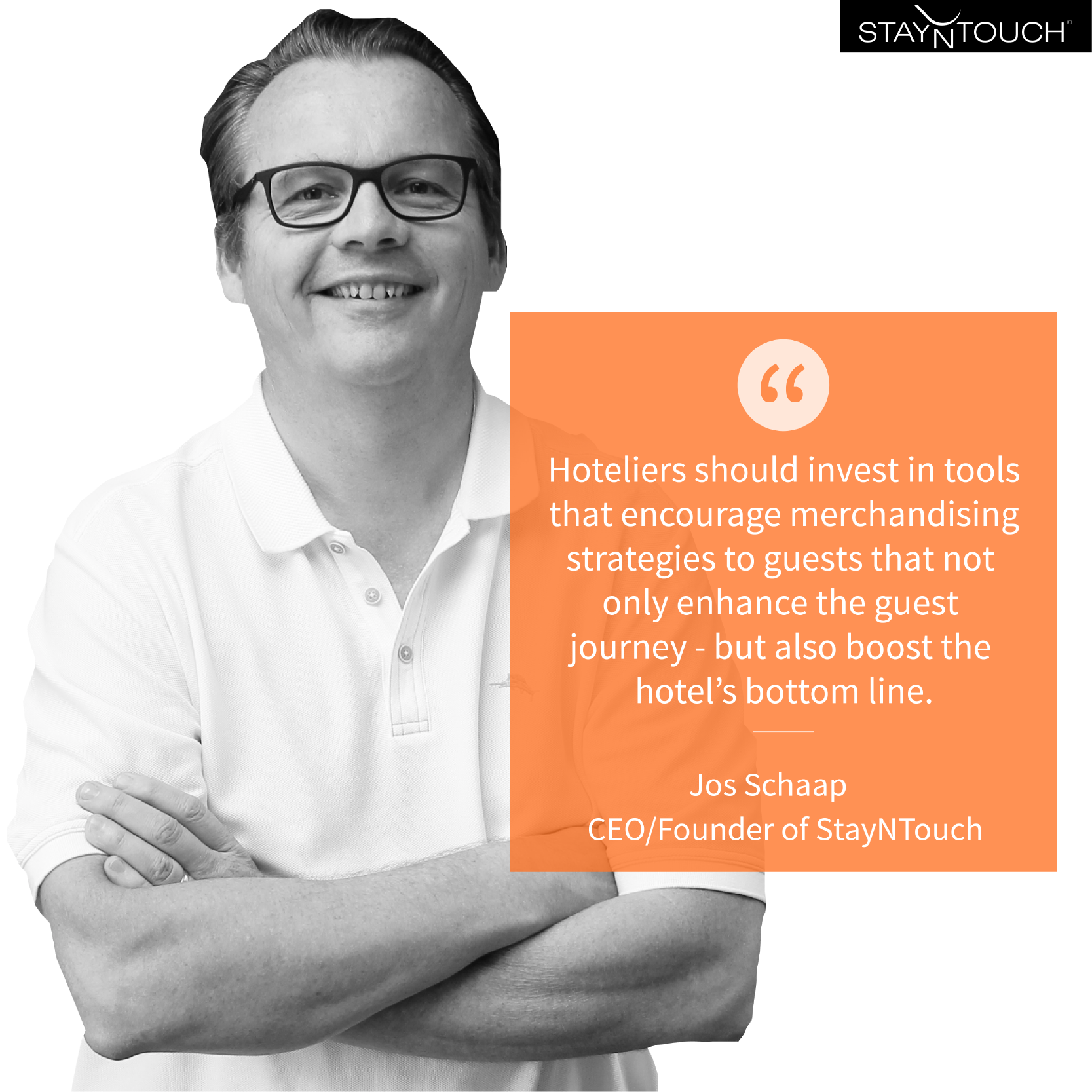 According to a recent survey of 2,000 people, the average U.S. consumer makes three impulse purchases a week, adding up to $450 a month and $5,400 per year. Of those surveyed, 85% said their impulse purchase involved taking advantage of a deal or discount. Further, the average person (over the course of a lifetime) will reportedly spend over $110,000 on impulsive purchases. Of course, the concept of impulsive buying behaviors isn't solely tied to retail environments; rather, it touches almost every industry — the hospitality realm included. With the strategic implementation of mobile-centric technology and the prioritization of operational automation, hoteliers can groom the opportunity to use impulse buying to their advantage, but unfortunately, many are still missing out. The StayNTouch, Travel Tripper and TrustYou 2018 Guest Experience Assessment Report Study revealed some surprising findings: 
41% of respondents do not offer their guests a choice of check-in method

70% of respondents never or only sometimes convert upsells or upgrades at check-in

68% of respondents recognize the need to improve their use of mobile technology to improve the guest experience.
The good news is that the trend for impulse booking has seen a recent surge as consumers search for last-minute deals on flights and hotels. With online booking platforms and the option to view virtual tours, chat with hotel representatives online and book instantly, the hospitality industry has seen a 150% surge in travel-related searches for "today" and "tonight" in the past two years. Not only that, but more than 60% of U.S. travelers would consider an impulse trip based on a good hotel or flight deal, according to a study that Google conducted with Phocuswright.
What does this all mean? With technology catered to the needs of impulse-driven consumers, the travel and hospitality industry is in a position to generate more revenue than ever before — and that opportunity continues far beyond the initial booking.
Consider this — the primary pillars in the creation of a successful and profitable guest experience are the provision of value and personalization, and the ability to provide an experience that is efficient and seamless. The modern, digital-savvy guest expects to engage with platforms and businesses that are, too – digital and catered to quick, efficient service. With the help of modern tools for automation and personalization (machine learning and AI, insight-driven PMS and CRM), hoteliers can simplify and streamline the pre-stay and on-property experience like never before.

While legacy PMS systems were often burdened with platform limitations, complicated upgrades, and manual processes, modern PMS systems enable hoteliers to effectively automate their operational model. With insight-driven, cloud-based technology acting as the backbone of your hotel's day to day operations, your team can easily offer appealing upgrades, add-ons and upsells at each guest touch point. Hoteliers no longer have to push their staff to sell, because modern PMS technology automatically provides them with the tools to better engage with guests, individualize their experience and drive revenue.  
Hoteliers need to take advantage of point of sale opportunities like event tickets, spa treatments, happy hour, upgraded room type, breakfast or spa packages, early check-in or check-out later for a nominal fee. For those guests who prefer an efficient, low-touch experience and opt for a self-service kiosk, automated upgrade and offer prompts will become available to them throughout their navigation of that platform. This allows them to consider that purchase opportunity without any pressure from hotel staff, and within a process that is as quick and seamless as the tap of their finger. Why is this so effective? Because the offer is not only incentivized to their experience, but it is entirely convenient and accessible in nature.
At the end of the day, upselling/cross-selling isn't just a sales tactic; it's a guest happiness tactic that can help you build deeper relationships with guests by delivering more value. Impulse purchases account for a significant chunk of the consumer spending pie – so hoteliers should invest in tools that encourage merchandising strategies to guests that not only enhance the guest journey – but also boost the hotel's bottom line.  Sounds like a real win-win for everyone, doesn't it?