Guest Engagement is certainly the buzzword these days. You hear it applied in all consumer-facing industries including retail and restaurants. Most start-ups are sure to include their guest engagement strategy in their investor pitches. Why is this suddenly so important to everyone? Well, it is a little like the buzzword, "omnichannel." As soon as brick and mortar stores realized that technology would allow them to interact with their target customers through a wide variety of virtual touch-points (website, mobile, text, app, television etc.), they realized that they now had many more opportunities to capture a transaction than ever before. Omnichannel, when executed properly, means more revenue for the retailer.
Guest Engagement is really just looking at this same concept but from a different angle. With guest engagement, you are looking to improve the quality of each customer interaction in order generate customer affinity for the brand experience. Broadly speaking, if a hotel guest develops an affinity for a hotel brand, then chances are that the hotel will reap return business from that guest. Gallup Poll data reveals that a customer who is fully engaged represents an average 23% premium in terms of share of wallet, profitability, revenue, and relationship growth compared with the average customer. In stark contrast, an actively disengaged customer represents a 13% discount in those same measures. But for Hospitality, it is an even more important message. Gallup reveals that "fully engaged hotel guests spend 46% more per year than actively disengaged guests spend."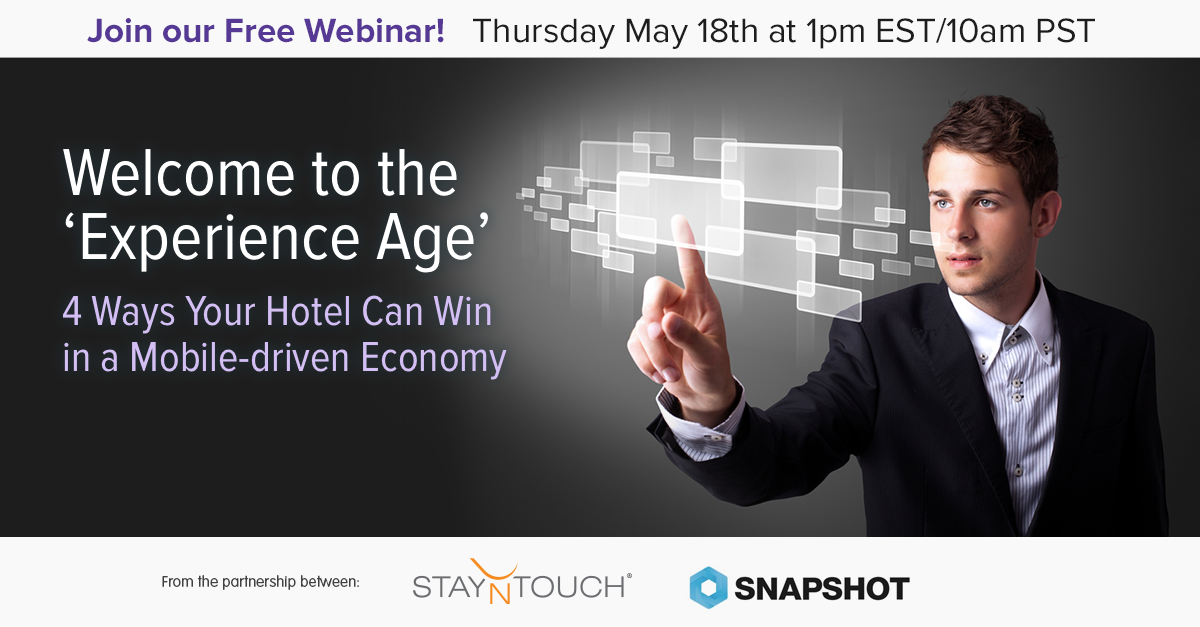 But how does that happen? Yes, repeat business but also pulling more revenue per guest per stay. By delivering stay options or choices throughout the stay process, hoteliers give control to the guest, which in turn translates to a positive brand experience because they can customize their stay experience. If we can monetize these choices, then we have created multiple guest engagement scenarios that drive immediate incremental revenue.
So just as "omnichannel" describes the integrated shipping touch-points for a consumer, let's review the integrated hotel stay touch-points for the hotel guest.
Purchase Phase
Great engagement techniques at this stage generate conversion. That means great photos and videos will go a long way to selling a higher priced hotel. Great reviews and evidence of management engagement with those reviews are also contributors to conversion. This is the stage where investment in marketing and advertising bears fruit in the form of high room quality choices and pre-arranged ancillary revenue options.
Pre-Arrival Phase
We have long seen the success of pre-arrival e-mails, though it is not as common throughout the industry as it should be. What is interesting is the growth of pre-arrival texting between staff and guest. Perhaps sensing the success Airbnb has had with its pre-arrival host messaging, hotels are now opting to emphasize personalized service through text.
Check-in Phase
Mobile check-in allows guests to not only reduce the time required to check-in, but to also do it on their terms. Check-in can be done in transit to the hotel and is significantly less time than otherwise spent waiting in line at the front-desk. So this engagement event provides convenience and control to the guest, but can also give them additional choices. Mobile check-in allows guests to consider and peruse upgrade options at their own speed without the pressure of a front desk clerk staring at them. As such they are more likely to buy. Hoteliers are also monetizing early check-in, so if the room is ready, they guest can purchase 'early access' for just a few more dollars. And, like the omnichannel concept, hotels are also re-presenting add-ons to the guest in this phase, thereby increasing ancillary revenue.
On-property Phase
Once checked in, the guest goes about the business of their stay whether on property or away. To keep them engaged, there are four strategies that reap revenue. The first is simple e-mail notices during the stay that promote hotel events and amenities. These can lead to the second interface, which would be a mobile web site or app that allows the guest to order room service, add-ons or even book tickets. The third would be text messaging that does much the same as the promotional e-mails. Lastly, and perhaps most importantly, would be the interaction between staff and guest that are supported by a mobile PMS interface. In this way, amenities and add-ons can pre previewed by the guest on the staff's tablet in order to better sell. Plus, there is the benefit of immediate ordering of the item as the tablet IS the PMS and not some proxy. It should also be noted that some hotels have begun using beacons or GPS to locate guests on or near property to entice them with nearby special offers. The on-property phase is, traditionally, where guest engagement is the highest. Using technology can better add a revenue opportunity to those interactions.
Check-out Phase
Check-out day is the end of the guest engagement opportunity, right? After all, the guest is leaving and the stay is soon to be over. Well, perhaps the guest may want to stay a bit longer. Check-out times are set for the convenience of hotel operations. But if the room is not allocated to someone else that day, then why not monetize a late check-out, giving guests another opportunity to customize their stay – and sleep in a bit more?
Post-stay Phase
Yes, you probably won't be able to derive any ancillary guest revenue after the stay if over, but this is when you should be thinking about working to get the return business and, perhaps even more importantly, to turn the tale of their great guest experience into a virtual promotion for your hotel on the review sites. So really, the process has come full circle, where management engagement via thank-you notes, messages and review responses will go a long way to deepen the bond between brand and guest.
In conclusion, Guest Engagement IS quite important as there are both direct and indirect revenue generation opportunities when you have taken the steps to empower your engagement touch-points with mobile hotel technology.