Article
Driving Ancillary Revenues With Your Hotel Property Management System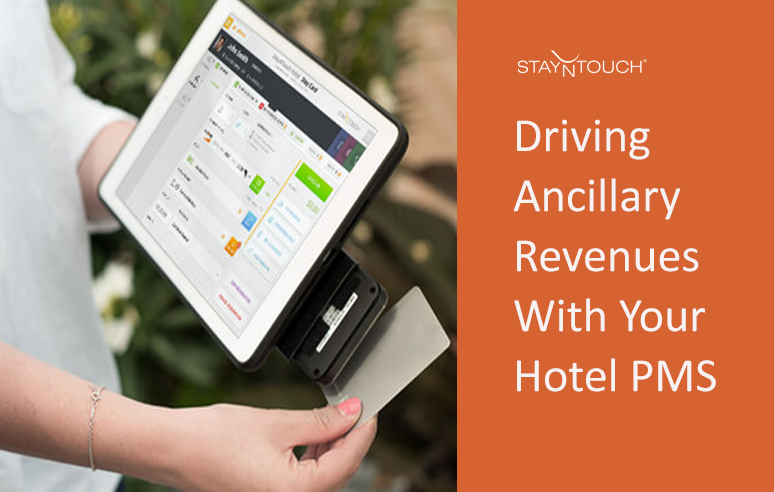 The hotel industry has an opportunity to not only drive ancillary sales on-property, but also to develop long lasting relationships with their guests by presenting products and services that are valued. Hotels usually focus on increasing on-property spend through room service, gift shops, mini-bar sales and hotel dining establishments. Today, through the use of SaaS hotel property management systems, hotels have the flexibility to exceed service expectations and still increase their top line revenues.
Room Upsells and Monetizing Early Check-In/Late Check-Out
Even before a guest checks in, cloud-based hotel technology enables you to send relevant offers that the guest may want to purchase pre-arrival. The most popular of these is the upsell to an upgraded room type, perhaps a room with a better view and breakfast package – the variables are endless. Hotels can also enable the guest to check-in early or check-out later for a nominal fee. By offering these types of options, you are giving greater choice to the guest and enabling them to personalize their stay on their own terms. Some guests may not decide to do so – but those who do will be willing to pay for what they want. Upselling isn't just a sales tactic; it's a guest happiness tactic that can help you build deeper relationships with guests by delivering more value.
Tracking the Guest Journey to Help Drive Revenues
There is an immediate data effect occurring today, and this is allowing hoteliers to understand what drives the booking of a hotel room, on-property amenities, as well as guest preferences. Having all this data at your fingertips ensures that you can guide the guest through the journey that he or she may find most attractive. For example, if you have information on a guest that suggests an affinity to spa treatments, why not offer them something additional to a basic massage, like a pedicure or a manicure to upsell more services, driving ancillary revenues as well as tailored service. Capturing data to gain a deeper understanding of guest preferences, and then using that information to market enhancements, upgrades, or add-ons is all about creating a better experience.
None of this can be successfully achieved without the integration of on property hotel PMS as well as supporting external platforms. Though we may have cracked the code related to connecting multiple solutions and platforms to each other; we still need to use the collective data to proactively engage with guests and give them what they want, plus a little bit more.
Immediate Gratification Due to Instant Contact
We live in a world today where immediate gratification is becoming the norm. People want to receive information immediately. The responsiveness of the Internet and the countless apps that reside on a guest's smart device have motivated this exciting shift.
With a single click, people can now book an Uber, purchase a book, or hire a cleaning service. But this is all powered by instant contact. Enabling guests to make requests at any given moment, whether on-property or off, will increase revenues by capitalizing on the myriad of special requests that are available. There is also another benefit to this immediate gratification phenomenon. By delivering what the guest wants, when they want it, the hotel will invariably garner better reviews and win loyalty based on great experiences, not on points. Better reviews can directly equate to better rankings and more business. Don't forget – hotels are in the service business. However, by aligning your hotel with a technology infrastructure that provides these types of guest relationship enhancers, hotels will ultimately come out on top.
Guest Relationship Building Develops Trust
There has been a separation between the hotel employee and the guest for far too long. There are many companies on the market that profess to offer "guest engagement solutions" but essentially, they are just communications providers. By empowering hotel employees to break away from the front desk and authentically build connections with guests upon arrival is very powerful. This type of interaction would not be imaginable, once again, without the advancements in technological flexibility. By having employees use mobile devices to check-in guests or facilitate special requests to another department, it ensures that the rapport between the guest and the hotel can solidify and flourish. It all comes down to delivering personalized services in new and innovative ways that build trust and enhance relationships.
Choice is Key
Finally, it truly is about choice. If options are readily available to guests, they will feel in control and invariably want to continue a long-term relationship with the hotel. Not all guests are alike. Some will want to navigate through the hotel on their own terms and may never want to speak to an employee while others will want white glove treatment and expect all the service elements that a hotel can offer. Whatever type of guest your hotel caters to, you must ensure that you have tools and processes in place to deliver the level of amenity that the guest chooses – whether it be high touch, no-touch or somewhere in between. The key to increasing on-property sales is to offer what your guest might not even know they need or want, and to do it at the right time, and in a way where they don't feel pressured or that all you want is their money.