Customer Engagement is really about increasing the frequency and quality of interactions with the customers in the hospitality industry with the endgame of driving increased ancillary revenue, brand affinity and repeat business. Given that we all have our nose in our phones most of the day, it is no surprise that hoteliers are looking to find ways to create visibility and engagement through guests' mobile devices.
Mobile has now impacted every stage of a hotel's engagement with the guest, from pre-booking trip research through the stay and then into the post-stay phase. As you read this post on your phone, you are probably thinking, "What's so earth-shattering about that?" How quickly we forget. Let's look back about 15 years or so and compare how the life of a hotel stay has now drastically shifted because of our love of mobile devices.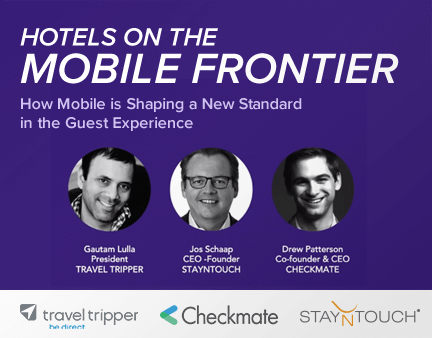 Research and Booking a Hotel Stay
15 years ago, the biggest brands were just getting to the point where they offered online bookings (here is Marriott.com way back then). Expedia was still quite new and most individual hotels were trying to figure out if they should budget for their own website. That means, more often than not, your travel research may have included searching the Internet, but may also have heavily relied on a call to a traditional travel agent.
About 8 years ago, some hotels had mobile sites, but they were often just hotel marketing sites. Many hotels trying to figure out if they should budget for a mobile presence that included booking capabilities.
Today, nearly every hotel has either a dedicated mobile site or, more likely, a responsive site with mobile-optimized booking capabilities. For most people, it is instinctual to look at your phone when you want to research and book. More importantly, most brands have dedicated Loyalty Apps, which are the first place their members turn to when they need to book. Integration with Apple wallet has made mobile bookings even more convenient than desktop bookings.
The Hotel Stay Itself
Checking into a hotel 15 years ago was a very familiar process – you arrived at the hotel, went to the front desk, waited in line, then told the clerk you were checking in as she looked down at her amber-screened terminal and searched for your reservation. She then tried to sell you and upgrade, and then went over all the details of the hotel while you stood there with your bags. 8 years ago, the process was pretty much the same, except that the amber-screened terminal was replaced with a gray, windows-themed monitor. The thing is … this is what many hotels consider to be Guest Engagement – those excruciating long minutes where the front desk clerk talks to you while looking at her computer, when all you want is your room key after a tiring journey.
Today, we have mobile check-in and mobile check-out. Plus, we can browse upgrades at our leisure on our mobile phones – say, in the taxi or airport – and can often purchase add-ons for our stay as well. All of which are done well before we arrive, bags-in-hand, to the lobby of the hotel. We are starting to see room service ordering from our phones, and special in-stay promotion for activities and dining offers sent to us via e-mail or message. It is true that these options can mean that we are not face-to-face with hotel staff. But, because of mobile, we are far more engaged with the hotel as a business and a brand.
Post-stay
15 years ago, TripAdvisor was just getting off the ground, so for most people, there was really no post-stay engagement except perhaps to complain around the water-cooler. 8 years ago, social channels were up and running but hotels were just formulating social strategies, so engagement was very low. Today, your mobile phone provides a line to the hotel through review sites, Facebook, Twitter, Instagram, travel blogs, etc. And hotels are directly responding to guests through those same channels. Mobile devices are as much text and photo devices as they are phones, so the immediacy of mobile is a catalyst for greater post-stay engagement.
In conclusion, mobile devices are so ubiquitous in our lives that we forget that they are actually still new and revolutionary. When we look at the last 15 years, we realize that hotels are just now tapping into the potential to engage with their guests through every stage of the hotel stay.