Yotel, one of the worlds most hi-tech hotels according to CNN, and Zoku, a super trendy Radical Innovation Design finalist, (both powered by StayNTouch), are doing it. Citizen M is doing it. And anyone that's been paying attention is doing it.
The tablet/kiosk self service station is becoming cool again. Gone are the days of the fridge-sized kiosks that never work. Now, all the hotels that are paying attention to guests demands are allowing guests to check themselves in and out via sleek futuristic check-in stations that fit right in with their modern aesthetic.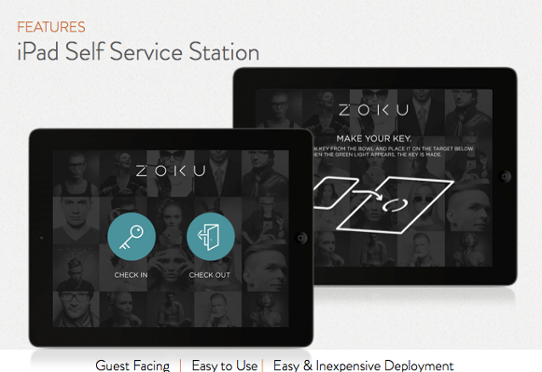 Previously, hotel execs feared that guests would not know how to use a hotel self service check in station, and would still need staff to assist them. Wrong. Not when they're designed properly.
Think about how many people you know that don't own or know how to use a smart phone. Not many, right? And if you do know 1 or 2, then they're probably the only ones that might have trouble using a self service station.
As Yotel's numbers suggest, 85% of all their guests prefer to check in & out via their self service stations, and their Trip Advisor ratings are through the roof!

Look, I know you have great front office staff and people love your front desk experience, but think of your front office staff like travel agents. Ten years ago everyone needed a travel agent. Today, almost everyone books online. Yet, if you do have complex travel plans, you know that you can always call a travel agent for personal service. Similarly, why not have your staff roaming the lobby where they can meet the guest personally if they need assistance instead of standing behind a huge desk?
Speaking of front desks, you can even look at modern office design. Execs aren't sitting behind mahogany desks in big offices, hiding from their employees. They're out there in open offices among their employees, accessible to all. Hotel staff should be doing the same.
Hotels are changing. The status quo is changing. Don't get stuck in the past. Don't be like Blackberry, saying that people will always want to type on a physical keyboard. Do you know what happened to them? I know you do.
Let's focus on design and usability. And more importantly, let's focus on what your guests want.
By Ronnie Coleman, StayNTouch