Oracle Simphony POS Integration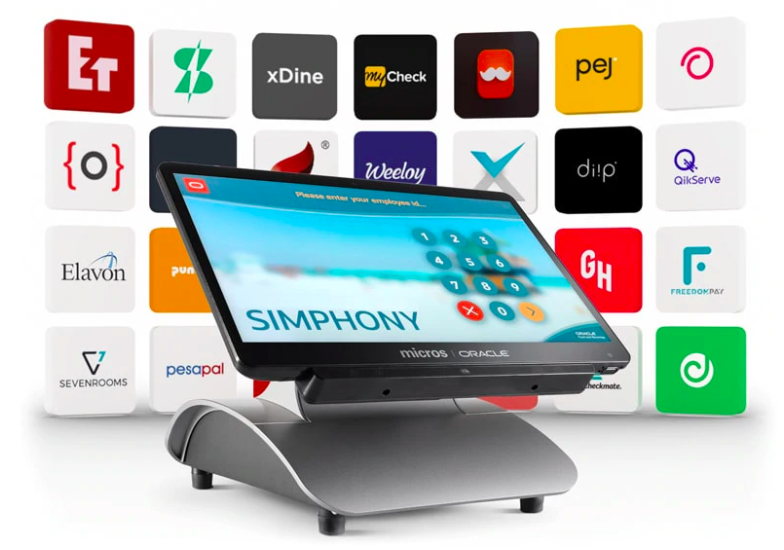 Product Description
Micros 3700
The most widely installed restaurant management software in the industry today, Oracle MICROS RES 3700 Restaurant POS System contains everything a restaurant operator needs to manage their business. From quick-service restaurants to full-service fine dining establishments, Oracle MICROS RES 3700 continues to set the standard for POS software.
Micros Symphony
As an all-in-one cloud POS platform, it helps restaurateurs optimize their online and in-house operations in real time from any device.
Why This Product?
Micros 3700
Micros 3700 is a comprehensive point-of-sale (POS) solution with cloud and on-premises tools for the back office, restaurant operations, and guest services. The Oracle Hospitality RES 3700 suite provides start-to-finish guest service, increases operational efficiency and speed, and ultimately provides a better service experience for your customers and staff. Key Benefits:
Increase efficiency and speed of service to offer a superior guest experience

Improve bottom-line business results

Better manage employees, inventory, and business objectives

Enhance guest engagement
Micros Simphony
Simphony puts engaging, real-time information at the fingertips of your customers and your staff. Ordering is intuitive. Kitchen communication is instant. Updates to daily specials, menu details, and personalized promotions are delivered to each touchpoint automatically. Engage your customers with order updates through mobile push notifications, and empower your staff with real-time customer satisfaction details through Simphony's engagement tiles.
Who Uses This?
Micros 3700
Whether your restaurant operation is a globally recognized chain or a single independent location, you can benefit from the Oracle Hospitality Restaurant Enterprise Series (RES) 3700 product suite.
Micros Symphony
The Oracle MICROS Simphony POS system is built for complete restaurant management. Simphony powers the most successful restaurants across the globe, from local cafés and iconic fine dining restaurants to global quick-service chains.
Key Features
Micros 3700
Customized for hotels and resorts, Aireus offers POS options including our core advanced Apple iPad POS solution, Self service Kiosk, Apple TV In room dinning, Cabana and Pool side ordering, Our room service module, On-demand reporting and High-level security and encryption and of course or Mobile/handheld and wired capabilities.
Cloud reporting and analysis tools

Full-featured mobile solutions

Back-office tools for inventory, ordering, and receiving

Start-to-finish guest experience management

Comprehensive security

Flexible architecture for integration with complementary innovations
Micros Symphony
Online Ordering and Delivery 一 Simphony brings your menu and and payment processing online. Update menu items and take orders from your website or branded mobile app and send them directly to your restaurant or cloud kitchen. Alert your customers when their orders are ready for curbside pickup or are on their way for delivery.


Conversational Ordering 一 Simphony's conversational ordering screen allows orders to be taken the way they're spoken without interrupting the customer. It also encourages cross and upselling while providing the flexibility to change orders on the fly.
Real-Time Table Management 一 Simphony's friendly and customizable table management screen improves efficiency and customer service while helping to turn tables and reach revenue goals. It gives servers the ability see the stage of each dining experience and the amount of time guests have been at each table. Simphony also delivers service alerts to help staff be more attentive to each guest.


Reservations and Wait Lists 一 The reservation list allows hosting staff to manage all reservation requests quickly and easily. If a restaurant uses future reservations or multiple dining room layouts, a tabbed template provides staff with an easy way to navigate between wait lists, reservation lists, and table layouts.


Custom Look and Language Support 一 Customize Simphony's graphical interface to match your restaurant's look, feel, and layout. Simphony also supports multiple languages and currencies, from Chinese and Japanese to Spanish, French, German, Italian, and more. Whether you're operating in one country or span the globe, we've got you covered.


Self-Service Kiosks 一 Simphony powers Oracle MICROS self-service kiosk hardware as well as third-party kiosks to shorten lines and wait times. Update prices, menu options, and upsell items across multiple kiosks at once while reducing staff overhead.


Multichannel Kitchen Displays 一 Simphony works hand-in-hand with Oracle MICROS Kitchen Display Systems (KDS) to increase kitchen efficiency, reduces errors, enhance food quality, and optimize speed of service. Touch screens, bump bars, and remote views allow kitchen staff to easily prioritize food preparation and manage timing across multiple kitchen stations.


Integrations Ecosystem 一 Simphony is built on a secure and open API running on your choice of Microsoft Windows or Oracle Linux. Easily connect your favorite online ordering platforms, delivery services, mobile payment processing, and more.