Medallia Zingle Messaging Platform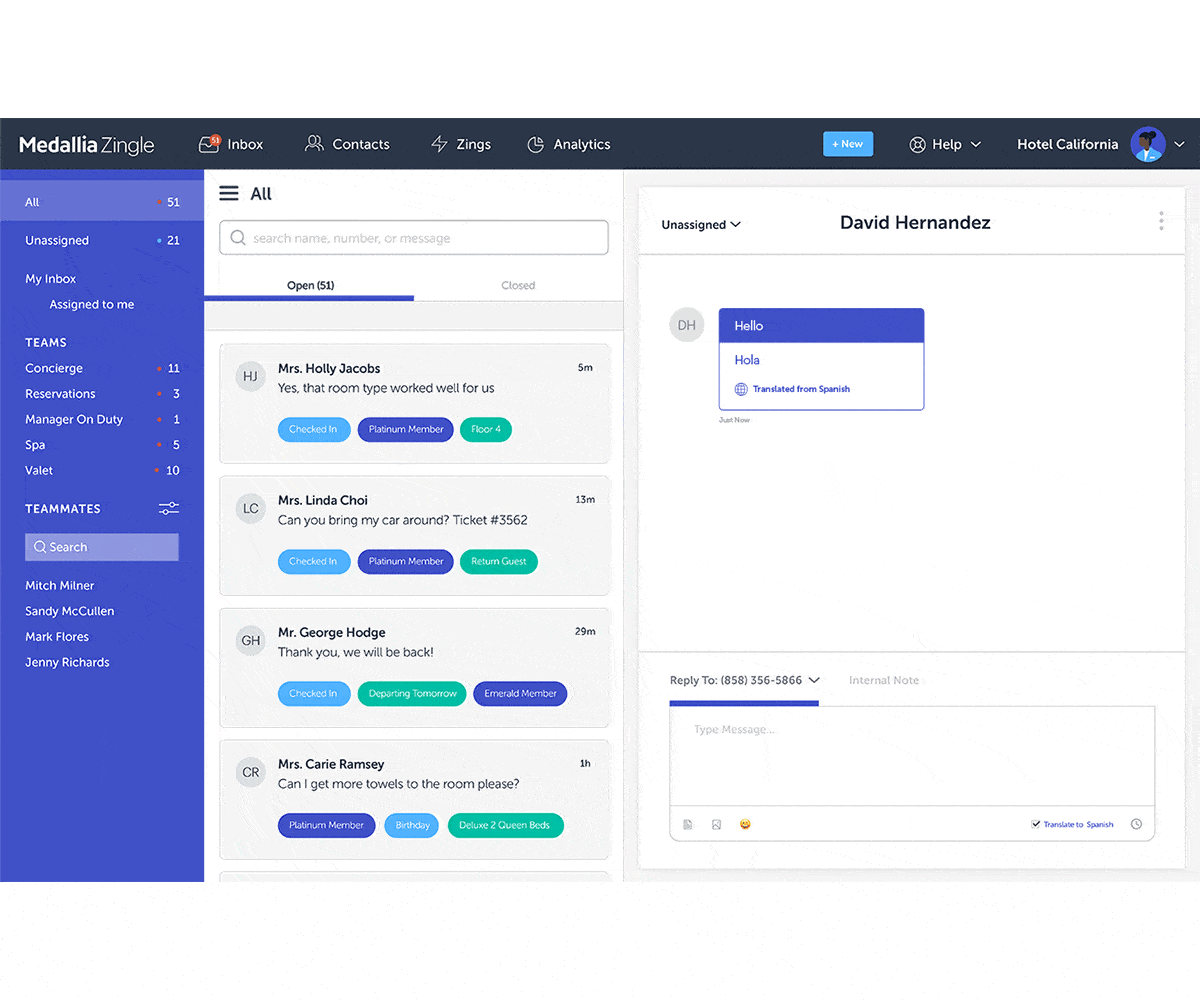 Product Description
Medallia-Zingle is a best-in-class messaging platform designed to empower businesses to deliver real-time, personalized customer experiences.
Why This Product?
Medallia Zingle provides our customers with the tools to create brand-differentiated service experiences by leveraging best in class technologies and two-way messaging to create meaningful interactions throughout the entire customer journey. And because no two businesses are alike, clients have the freedom to integrate third party CRM and database applications and turn options on or off as they see fit to run their businesses. Features such as automated responses, dynamic segmentation, integration with third party systems, and more are all optional and configurable by the client.
Who Uses This?
Hospitality, Retail, Staffing, or any vertical that benefits from two-way messaging.
Key Features
Dynamic Segmentation – Utilize customer data to design brand-differentiated service experience for each customer segment, with Zingle's integrations and advanced segmentation capabilities. Segment your contacts with rules or filters that you set and then contacts are automatically added when they match.
AI automation engine – Zingle's AI understands conversational text in a way that chatbots do not. Understand the intent of your customers' requests, to trigger time-saving automations that resolve common issues.
Analytics Suite – Dozens of reports bring together all the data from your customer communications so you can make the right investment and staffing decisions. Roll-up reporting to help spot trends in your business. Measure staff performance and gain valuable insights.
3rd Party Integrations – It starts with data. Access to customer data is the key to segmenting your customers, personalizing your communications to those customers, and delivering a truly differentiated service experience. With Zingle, you can ingest customer data from virtually any system through pre-built API integrations, flat file imports (SFTP/email), and third-party connectors like Zapier.
Team inbox – One or more users can manage dozens of customer conversations across multiple messaging channels, from a single view.