Article
CFO/Controller Alert: Hotel SaaS will make your Life Easier
CFOs are constantly being bombarded with companies trying to sell them solutions that promise to deliver on every aspect of their hotel's requirements. The challenge comes down to determining which systems fit the hotel's unique business needs as well as what the underlying technology looks like. Is the application delivered on-property or in the cloud? How will it integrate with other primary applications that are already be in place? And most importantly, how much will it cost? What is the ROI? And how will they budget for this new expenditure?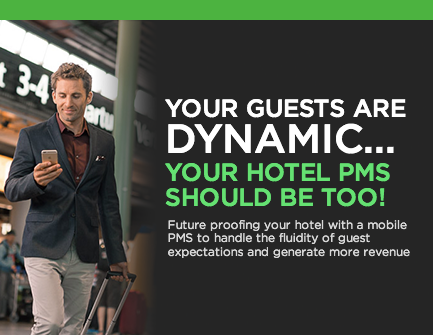 So, with all the emerging technologies designed to have a direct implication on revenue, profitability and guest satisfaction –  how can a busy CFO or Controller decide what business applications will help your employees get their jobs done more effectively with less risk and up-front capital?
Total Cost of Ownership
In Deloitte's most recent quarterly (Q3 2016) CFO Signals survey found that almost 80 percent work in North American companies that have implemented cloud solutions. The solutions are primarily focused on the sales and marketing side of their businesses however primary operational solutions are also gaining momentum.
There is quite a delta between on premise solutions and SaaS solutions. A CFO needs to look at the variables related to the costs of software, hardware, labor, consulting and training associated with an on-premise solution versus a SaaS delivered solution.
There are definitely costs savings to be had when implementing a SaaS solution and the lower TCO allows companies to re-invest in innovative ideas rather than technological infrastructure. However, CFOs need to look at the same metrics they use when purchasing any other solutions or platform. What is the ROI and payback period? Does the implementation of the SaaS offering help to increase guest satisfaction, decrease operational costs and possibly even deliver new revenue opportunities? There are some many questions that need to be considered however using the same decision based metrics may help in swaying a CGO to look at SaaS in a favorable light.
Proper Budgeting and Forecasting
One of the most aggravating issues that CFO' and Controllers must deal with related to technology purchases is delivery and maintenance creep. While an on- premise ERP suite can also deliver much of what is needed, the imperatives of scalability and agility mean on-premise hardware is now viewed as a hindrance to growth. In light of the demand to also drive unnecessary IT costs out of business, IT infrastructure and its support and maintenance costs are now viewed as unacceptable. The older platforms will have ongoing maintenance contracts for support and upgrades, but there is always something unanticipated that pops up during the implementation and use of a system that can be unforeseen. SaaS fees are inclusive of updates and upgrades to ensure that the hotel using it stays current on guest and market demands.
Implementing a SaaS solution takes the guesswork away from the CFO or Controller. They know exactly how much their monthly spend will be for the solution and the spend covers everything related to the implementation, support and initial roll-out of the solution. Managing this from a budgetary perspective makes life easier and helps with maintaining positive cash flow. There are no surprises.
Flexibility to change with new business requirements
Finally, as SaaS solutions in the hotel industry become more widely adopted, the integration of the systems will become easier and easier to track. SaaS supports agility, rapid scalability, fast decision making, and real-time information on guests and the business. The anytime, anywhere accessibility create a substantial amount of flexibility to manage the ever-changing demands of the hotel industry. By operating in the cloud, back-up data and storage capacity is greater and frees up on-premises bandwidth for other vital business operations and guest needs. SaaS hotel applications make it easier to get new users up and running, turn on modules or features and add new capabilities. The cloud also opens the door for innovation by introducing new ways to engage and share information between staff, departments, and guests with innovative options like mobile PMS systems.
Software-as-a-Service is booming as hotel companies aim to reduce their total IT expenditure, but it's also shifting the IT balance of power towards the hotel's financial executives. As the availability and impact of technology continues to evolve, CFOs and Controllers will often become the gatekeepers to technological advancement. However, when it comes to the hotel solutions in the cloud, leaders are embracing the cost saving benefits, less maintenance, scalability, superior remote accessibility, and tighter security.
So, the only question left right now for those hotels who want to better manage and grow their business is to choose the hotel SaaS solution provider wisely!