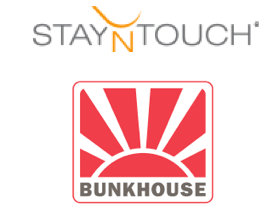 StayNTouch, an innovator in mobile technology and Property Management Systems (PMS) for hotels, is pleased to announce it's partnership with Bunkhouse Group of Austin, Texas where it plans to deploy its StayNTouch Cloud PMS and StayNTouch Guest Mobility products across its seven hotels. In June StayNTouch successfully deployed the products at El Cosmico in Marfa, Texas. Bunkhouse will continue to expand its portfolio in the near future.
"At Bunkhouse we create totally immersive experiences that extend beyond the typical front desk and the guest room," said Christian Strobel, President at Bunkhouse Group. "Many of our hotels have multiple buildings and include important, social exterior spaces. We needed a PMS that could move with the staff anywhere on our properties to serve our guests. StayNTouch's mobile PMS gives us this ability."
"As we develop future projects, we will continue to innovate on the guest experience and so require a technology platform that will grow and evolve with us," he continued. "We have been impressed with StayNTouch's commitment to supporting new hotel concepts in both front and back of house operations."
StayNTouch offers hotels the opportunity to integrate multiple cloud-solutions on one platform:
StayNTouch Cloud PMS: Next generation Hotel PMS, fully cloud, fits on every device, optimizes hotel operations from front desk, to groups, to housekeeping to revenue management. Simple monthly pricing that includes training, integrations and configuration.
StayNTouch Guest Mobility: Enables guest pre-engagement and guest services via mobile web.  Guest-enabled mobile check-in & out via smart phone or desktop.  Private labeled, PMS-integrated mobile check-in &/or checkout. Bill review, preference collection, upsell opportunities, and remote key fulfillment. Promote and monetize late checkouts.
"We are delighted to be working with the management of Bunkhouse," said Jos Schaap, CEO-Founder of StayNTouch, "Like StayNTouch, Bunkhouse is constantly re-thinking the hotel experience to better service and delight guests. Our work together demonstrates how mobile PMS technology is a catalyst for a more guest-centric hotel offering."
 About StayNTouch Inc.
StayNTouch is a "Software as a Service" hotel property management systems (PMS) company focused on developing solutions that help hotels raise service levels, drive revenues, reduce costs, and ultimately change the way hotels can captivate their guests. Developed with mobility in mind, the pioneering platform enables hotels to create long lasting relationships with their guests by delivering personalized service levels that today's guests require. StayNTouch operates on tablets and smartphones, empowering hotel employees to go above and beyond in exceeding guest expectations at every touch point.
Powering over 75,000 rooms globally, our game-changing solution frees hotels from the constraints of legacy or premise systems, dramatically streamlines operations, increases margins, and revolutionizes how front-line staff connect with guests. StayNTouch is a trusted partner to many of the most forward thinking hotels, resorts, casinos and chains in the industry, including Yotel, Zoku Amsterdam, Valencia Hotels, The Freehand Hotels, Modus hotels and the Fontainebleau Miami Beach.
To learn more watch our video "THE NEW WAY… TO HOTEL!"
Twitter: @StayNTouchInc
Facebook: facebook.com/stayntouch
LinkedIn: LinkedIn/stayntouch
About Bunkhouse Group
Bunkhouse has a reputation for building memorable experiences that offer more than just a good night's sleep and a great cup of coffee. Passion for design, tireless attention to detail and a commitment to creating authentic culture have earned our properties a unique place in the hearts and minds of those who visit us. Our work is rooted in the communities in which we exist, and we believe above all else in creating an awareness of and connection to a sense of place in all that we do.
Our success is best measured by the loyalty of our guests, employees, stakeholders, vendors and partners, and we are proud to see those meaningful connections translate into a thriving business. We at Bunkhouse are proud to build businesses with soul. It's not only the right thing to do, and the most fun – it's sustainable, profitable and scalable.
Dogs are always welcome.
http://www.bunkhousegroup.com/