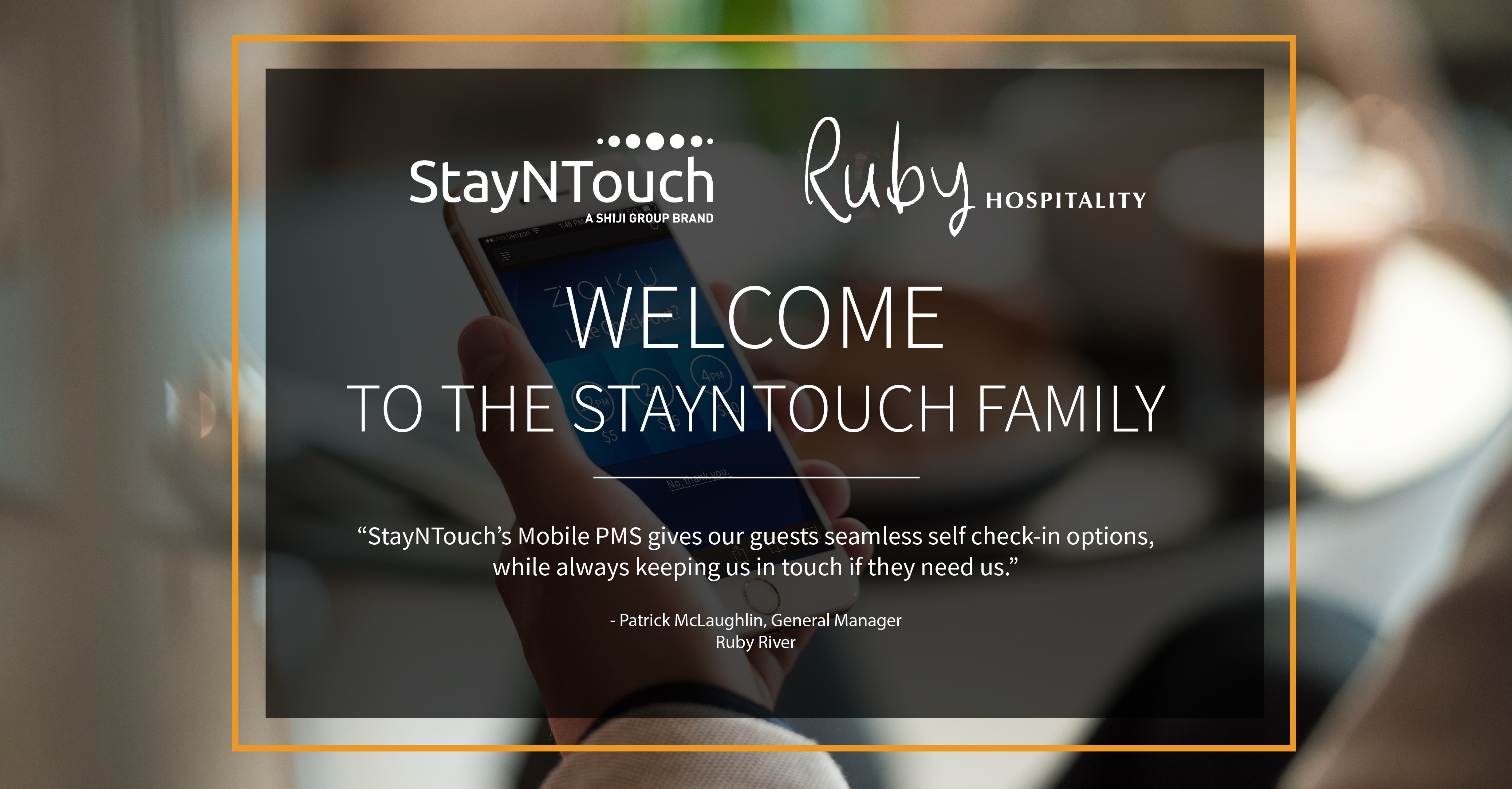 StayNTouch, a mobile hotel PMS technology provider revolutionizing the guest experience, is partnering with Ruby Hospitality to implement Rover PMS and Zest guest-facing solutions across all five of their Spokane, WA area properties.
Ruby properties include the flagship Hotel Ruby, Hotel Ruby2, Ruby Sandpoint, the historic Montvale Hotel, and the newly acquired Ruby River Hotel. Ruby Hospitality's owner, Jerry Dicker, has been in real estate development for over 40 years. When he moved to Spokane, Jerry focused on redeveloping the historic downtown core of the city; an area he refers to as the "arts district". Using his love for art and theater, Jerry began renovating historic buildings including the revival of the famous Bing Crosby Theater. His endeavors soon led him to hotels with each project being meticulously designed to blend his love of art with the distinctive aesthetic of the property's surroundings. Jerry's projects emphasize innovation, smart designs, and most importantly, artistic vision.
Dicker's management team chose StayNTouch because it fits closely with the company's mission, which is to deliver a unique high quality product with amazing service at a great value. "When guests arrive, we want them to focus on our hotel's unique decor and beautiful surroundings, not an outdated check-in process," said Patrick McLaughlin, the General Manager at the Ruby River. "StayNTouch's Mobile PMS gives our guests seamless self check-in options, while always keeping us in touch if they need us." Patrick also commented on Rover's back-of-the-house functionality "Organizing housekeeping with a clipboard can feel like spinning plates. But StayNTouch's housekeeping module lets us communicate with staff and check and room status in real time, which means quicker cleanup and fewer awkward interactions with our guests."
"StayNTouch shares Ruby Hospitality's commitment to forward-thinking innovation," said Jos Schaap, CEO and Founder of StayNTouch, "Because our PMS operates discreetly on tablets and smartphones, it fits perfectly with the artistic vision Ruby Hospitality wants to inspire. By giving hoteliers the tools to more effectively communicate, and guests a choice in their method of check-in, we let travelers better immerse themselves in a truly one-of-a-kind hotel experience."
Follow StayNTouch, A Shiji Group Brand
To learn more watch our video: "THE NEW WAY… TO HOTEL!"
Twitter: @StayNTouchInc
Facebook: @StayNTouchInc
LinkedIn: StayNTouch
About Ruby Hospitality
Located in Spokane, Washington Ruby Hospitality represents a regional collection of artfully crafted hotels, restaurants, theaters and event centers. We have a passion for hospitality and preservation, and strive to create unique spaces that offer value, comfort and service to all of our customers. For more information about Ruby Hospitality visit us at www.rubyhospitality.com.