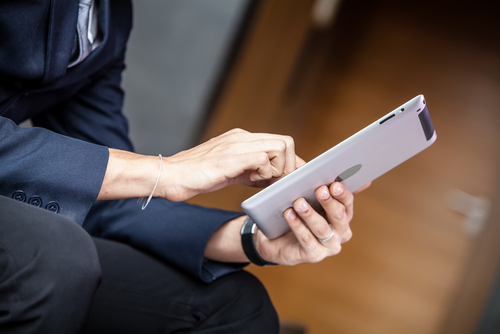 Mobile devices have become part can parcel of our everyday – they are most likely the first thing we go to in the morning and the last thing we leave down at night. We use them in both our personal and professional lives and businesses have started using them for greater operational advantage and to provide better customer service.
In the hotel industry, mobile devices have become critical tools on the other side of the front desk; hotels too can also gain great operational advantage by using mobile-based hotel PMS – below we run through three such operational benefits.
#1. Access to information all in one place:
Hoteliers have always relied on various disparate systems to accomplish multiple tasks. But in a today's environment it has become a necessity to employ as few systems as possible that are integrated tightly to seamlessly manage the hotel operations to ensure better guest satisfaction and loyalty.
With a mobile hotel PMS, hoteliers have access to all information on one dashboard. At-a-glance, front and back office staff can quickly see the daily status upon sign in (check-ins, checkouts, occupancy, rooms available, VIPs etc.). They can easily access guest folios with deep guest information and history right at their fingertips, facilitating better guest engagement. It also provides the opportunity to boost hotel revenue by enabling a one-stop shop for up-selling opportunities for hotel services such as spa facilities, golf, dining etc.
An easy to use interface means less time is required to learn how to use the system (up to 80%!); it not only simplifies and streamlines common everyday tasks but helps to improve productivity and deliver superior customer service.
With a mobile PMS all in one dashboard, hotel operations are simplified, allowing hotel staff to devote more time to welcome and delight guests.
#2. Ability to gather information and serve guests more efficiently:
Hotel guests today are not just looking for great customer service but are looking for a personalized experience; understanding your guests is the key to giving them good service.
With a mobile hotel PMS, critical data is easily captured, stored, accessed and reviewed. Multiple systems are seamlessly integrated and the collation of data across platforms and the consolidation of data are merged into one single point. Email address information, guest preferences and/or special requests can all be automatically and manually noted and recorded on guest reservation folios and can be updated by both the guest and staff.
With the ability to gather and access information about guests, hotels can respond more quickly and efficiently to serve their guests. It can help hoteliers to identify customer needs more effectively, allowing greater up-sell and cross-sell opportunities and increased profitability.
Understanding guests' helps hoteliers recognize what they want and utilizing the data gives them a better chance of yielding results. "Having guest data is absolutely priceless… guests have the ability to vote with their chequebook. The more you know about the guest, the better you are able to tailor your offerings" Joe Kurth, GM Pfister, Historic Independent Hotel.
With a mobile hotel PMS, hoteliers are using innovative technology to gather guest data, understand guest behaviors, provide that all-important personalized service and monetize on guest preferences.
#3. Access information, anytime, anywhere:
One of the greatest operational benefits of a mobile PMS over a legacy hotel PMS is the ability to access data easily using any device at any time no matter where you are. Employees are not tied down to their workplace and can control workflow whenever, wherever.
Managers can assess the PMS anywhere (home, car, lobby, etc.), allowing them to always have information at their fingertips to help make better decisions and provide better instructions to staff. Managers can view live performance, monitor operations, access key reports and statistics and measure staff performance – all of which means hoteliers can manage their properties, remotely, on the go, anytime, anywhere even if they are not physically on site. Likewise revenue management can access the PMS and make strategic decisions about rates and inventory and can react to hotel and market conditions in real time to make rate adjustments. Working in sync with front of house, Housekeeping can access the PMS on go via smartphone or tablet and change the room status in a matter of seconds allowing for more efficient turnover of rooms and check-in service.
A mobile PMS allows hoteliers the flexibility to efficiently run services and operations of their hotel remotely. Staff is free to move around the hotel servicing guests directly resulting in more face-time and enhancing their overall guest experience.
Well-executed operational functions are a key determinant of whether a guest's stay meets their expectations and whether they check out satisfied. A mobile-based hotel PMS can make an hotelier's life much easier; they are agile and business enhancing and allow hoteliers to spend more time in front of guests instead of in some back office.