The World Travel and Tourism Council (WTTC) forecast that, in the coming years, the growth in global tourism will outpace the growth in the global economy. "Travel and tourism will continue to grow faster than the global economy and most other major industries." David Scowsill, WTTC president and chief executive.
So, knowing this information, just how can the hotel industry make the most of it? In a recent article, veteran hotelier Giovanni Angelini tries to explain how by speaking about the challenges and opportunities ahead for the hotel industry. Below we run through some of the points he touched on.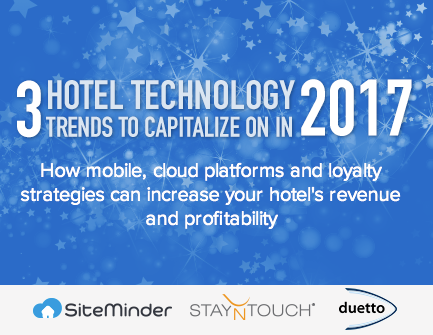 TOTAL Revenue Management: This is highlighted as one major area that hotels need to be proactive – and capitalizing the word "TOTAL" in our heading is also significant. Hoteliers need to upgrade to an integrated and optimized system in order to take advantage of guest booking data that leads to a plethora of moneymaking opportunities for hoteliers. With a integrated system hotels can avail of adjusted automated pricing based on demand, seasonality etc. across all booking channels, it allows for personalisation and easier selling of promotions, ancillary service, room upgrades and the ability to sell the ideal room to the ideal customer etc.
Mobile: Quite simply put… hotels needs to invest in mobile technology solutions in order to create service automation and immediate and personal engagement – we definitely agree on this one!
Robots: Headlines of robots taking over hospitality have been widely portrayed in the media in recent times, and the word robot itself conjures up all sorts of images that are a world away from the "human" element that the hospitality is built on. But, we're not talking about a terminator style story here, really the main point is that "robots" or the use of robotics has been round for quite some time (take Yotel's Bell-bot for example, a large robotic arm that picks up guests' suitcases and stores them in lockers before check-in and after check-out.) and when planning for the future they have to be considered at least for some basic services.
While some hotels are trialling robots for concierge type services, robots could be useful for other activities within the hotel industry such as completing loss making or highly repetitive tasks, including room service, filling housekeeping stock cabinets or taking coffee to meeting rooms and conference centres etc.
Most of what is highlighted and discussed in the article is nothing new – but the over arching theme really is linked to the idea of, while technology cannot replace the human touch it is crucial to the future of the hotel industry. It should be free to guests, user-friendly, enhance the guest experience and focus on creating a truly personalized experience for individual customers. If hoteliers really want to cash-in on the predicted global tourism growth, the time is now to act and get the right technology in place to meet the ever growing and demanding needs of the self-sufficient mobile traveller.
To read the full article; check it out here – "It's time to look beyond the hotel walls to reimagine the future of hospitality".