There is no industry more reliant on customer satisfaction than the hospitality industry. For almost all hotels, the process of interacting with guests has remained fundamentally unchanged for decades; hospitality involves making others feel comfortable and it is thought that these long-standing traditional values can only be successfully delivered and received as a face-to-face interaction with guests.

However as technology and communication continue to evolve the landscape of hotel guest relations has changed; direct, face-to-face communication has taken a backseat and the way the way hotels are expected to interact with guests is changing. Thanks to the proliferation of connected devices, consumers now have the freedom to choose how they interact with companies, brands and each other. They readily switch between platforms and devices, tailoring their experiences to suit their needs. As a result, today's tech-savvy, mobile-first travelers want the ability to help themselves and are looking for more personalized service that keeps up with their on-the-go, up-to-the minute lifestyles. Guests now expect a more customized approach preferring to be communicated with in a way that appeals singularly to them, rather than given a one size-fits-all message.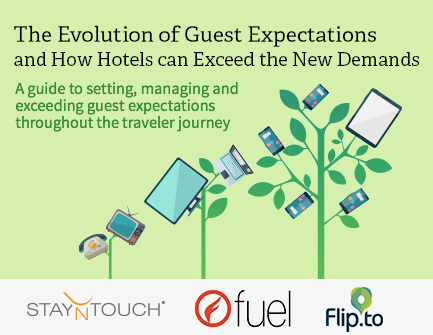 With the emergence of such empowered, yet time-constrained consumers, pressure to deliver customer service that is not only more flexible but also more convenient and personal is now even higher. For the hospitality industry, where communication and service are at the heart of the guest experience, it's more important than ever for hoteliers to harness and utilize guest data to establish and maintain meaningful relationships with guests – and new data-driven communication solutions are aimed at doing just that!
New cloud based PMS SaaS solutions unify data in a single platform and unlock guest intelligence mean hoteliers are informed, in real time, of guest preferences and desire, allowing them to identify and nurture their guests at every point in the travel journey. Such solutions now only allow staff the ability to efficiently share information, and have that customer's history and previous experiences right at their fingertips, but provides hoteliers with a omnichannel customer engagement and knowledge management solution to enable a seamless customer experiences across all touchpoints.
True knowledge of the guest comes real customer ownership and those that offer a personalized, relevant response to every customer inquiry will have guests who feel cared for, resulting in increased guest satisfaction, repeat business, loyalty as well as becoming advocates of your brand. The hotels that acknowledge the current change in hotel-guest relations and adopt a database-driven, customer-centric position will gain a market share advantage in a hyper-competitive industry.