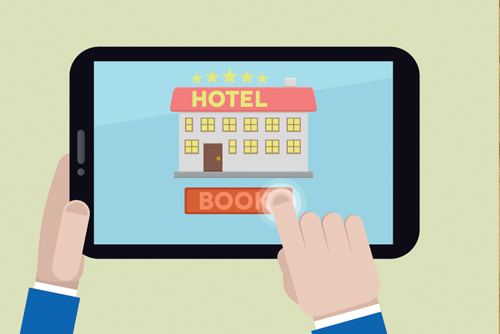 While there are many strategies to get customers to book direct, from maintaining a compelling and user-friendly website, to having an easy booking process, to remarketing tact-tics, a strong SEM program etc. – and while doing all of these activities will help your direct bookings, a good percentage of your guests will still book and come via an OTA no matter how good your digital marketing strategy is.
However, while some of your guests may book via an OTA, once they are on property there are a number of things that you can do incentivise them to book direct the next time round! Below are a few ways that you can convert your OTA bookers to loyal customers.
Mobilize your hotel front desk staff: Front desk staff are crucial to every hotel; they are the front line that have a golden opportunity to develop a relationship with the guest and through that relationship they can remind and motivate guests about booking directly for their next reservation and collect an email address and additional customer details to allow them receive special promotions or discounts.
REGISTER FOR THE WEBINAR
Wendy Norris, corporate director of revenue and ecommerce at San Antonio, Texas-based Valencia Group, which owns two independent hotels and manages three, says that front-desk personnel are key to success when it comes to their direct bookings. Hotel front desk staff and their dedicated reservations team are trained and incentivized to gather email addresses and sign people up for the repeat guest program. "If a guest arrives from an OTA or even via our global distribution system, we incent staff to gather email addresses and talk about our repeat guest program and things like our best rate guarantee card," Norris said.
The results of the company's efforts over the last decade have been dramatic. Today, of Valencia's Web-based business, including OTAs, about 70% comes from direct bookings. After deducting the incentive rewards paid out, the company enjoys a significant net revenue gain based on commissions it does not have to pay.
Communication throughout the guest lifecycle: As we mentioned in our pervious point, the advantage of gathering personal data allows hoteliers to foster and grow guest relationships. Hoteliers who collect data from all guests such as email addresses, even the ones who booked via OTA, means hoteliers can market to and communicate with guests, not only throughout their stay, but after they are long gone.
When on property, rich guest data allows hoteliers to identify individual guest preferences and enhance and personalize the guest stay experience accordingly. Relevant messaging not only anticipates and provides the guest with what they want, but increases spend per stay by sending them the right message at the right time.
All in all, data when used correctly to communicate throughout the guest lifecycle provides an effective method to build on direct relationships, increase guest engagement, encourage them to return and convert them into loyal customers (all while also creating opportunities for upselling and improving the bottom line!)
Offer discounted rates and incentives: An easy, and quick win is to offer guests that booked through an OTA a discount or percentage off their next stay if they book direct. A 2014 Google study showed that people book through OTAs because they believe they will get the best deal. However you need to make it clear to the guest that this is not the case, that you have a best rate guarantee policy and that in this instance are also offering a discounted rate for booking direct for their return stay. Although you will be earning less, you won't be paying commission, which can sometimes be as high as 25%.
Similarly allow your staff to offer incentives like room upgrades or extra amenities such as free Wi-Fi, room upgrades, complimentary passes to local attractions and free meals are all incentives that guests value. Again most of these will be cheaper to your operation than paying the OTA fee.
Encourage guests to join your loyalty program: Similar to training and incentivizing staff to collate guest data, the same should be said for the on property loyalty program. At the InterContinental O'Hare in Chicago, front-desk and reservations personnel are not only trained to exploit every possible opportunity to convert an OTA customer to a direct booking customer for future visits but staff are trained to promote their IHG's loyalty rewards program. "We educate people so they understand that if they book directly with us, they get Priority Club points for every dollar they spend, whereas with a third-party OTA, they get no points," Leslie Vosburgh, Business Travel Sales Manager.
To motivate employees, the hotel offers formal recognition, such as Employee of the Month status that might include preferential parking or some other perk in return for being the most successful at generating direct bookings.
As a result of their continuous and consistent efforts, InterContinental Chicago O'Hare has enjoyed excellent bottom-line results. Only about 10% to 15% of its business now originates with OTAs, while 70% to 75% comes from direct bookings!
Though OTA's do provide a considerable boost for booking, hotels tend to lose 10-25% commission fees for their presence in the OTA listing. To take the heat off this unavoidable loss, hotels that adopt a database-driven, customer-centric position will help to convert and increase their direct bookers – and they won't be paying OTAs for the same guest again and again.