HITEC Amsterdam 2018 is nearly upon us! Based on the success of last year's inaugural show, HITEC Amsterdam is back and will run from April 11th to 13th at the RAI Amsterdam Convention Centre. The show itself always promises to deliver and showcase the very best the industry has to offer and this year will be no different. The two-day event is jam-packed with sessions led by industry peers and experts and of course, has an unparalleled expo featuring the latest industry products and services from companies all over the globe
While there is so much to see and do at HITEC, your itinerary might be chock-a-block and we know time might be limited to fit in extracurricular activities BUT Amsterdam is reckoned to have more culture per capita than any other city on Earth – thanks to its diminutive size and myriad museums! And while there's a world of things to see and do in Amsterdam here are 5 things, we think, you should do while at HITEC Amsterdam – if you get a chance!
Move Like A Local
First off, transportation. Amsterdam is one of those cities that is drenched in clichés, from clogs and tulips, canals and "Coffee" shops. But there are some clichés that just cannot be ignored. Cycling is a way of life in Amsterdam – everybody uses bikes. So while you have the opportunity why not ride in style like an Amsterdammer or Mokummer as the locals would say – there really is no better or easier way to explore and enjoy the city's streets, canals (which became part of the UNESCO World Heritage list in 2010) and attractions than by pedal power.
And as you could have guessed, with over 880, 000 bikes in Amsterdam (that's more bikes than people) finding a bike to rent is not a problem and there are plenty of rental shops around. And if you don't want to go it alone and/or if your company wants to fit in some teambuilding exercises while attending HITEC, tandem bikes are also available!
Visit The Museum Of Canals
Besides bikes, another famous feature of Amsterdam is its canals. Amsterdam 17th century canal ring area, which received UNESCO world heritage status in 2010 is one of the marvels of the world's architecture. Half circular, man built canals with tens of bridges, water locks, new city defense walls and thousands of individual building parcels were planned in 1612 and to this day, remain intact and practically unchanged – pretty impressive!
It's safe to say the Amsterdam canals make the city and if you want to learn a bit about just about Amsterdam was built a visit to the Museum of the Canals (Het Grachtenhuis) is the perfect way to learn more about the history of Amsterdam's Canal Ring. Taking less than an hour, you are taken on a whirlwind journey through 400 years of history. The museum shows you not only why the creation of the Amsterdam canals was so unusual, but also why they are still special today. Seeing it makes you better understand not only the history of the Amsterdam canal area but also the social make-up of the city, its traditions and its spirit.
Don't Miss The Tulips!
Keeping with the cliché theme, the Netherlands have long been associated with the images of rainbow carpeted flower fields and bright bunches of tulips, but despite their fame, tulips are surprisingly not as easy to find in the streets and gardens of Amsterdam itself. But as of 2015, each spring Amsterdam now celebrates the famous flower with the Tulip Festival. The aim of the festival is to plant eventually one tulip for each individual citizen of Amsterdam (which is pretty cool) ensuring that it blooms once again all over the city. The festival runs from the end of March until the end of April so while at HITEC you can enjoy them at various locations around the city… or as long as they are blooming.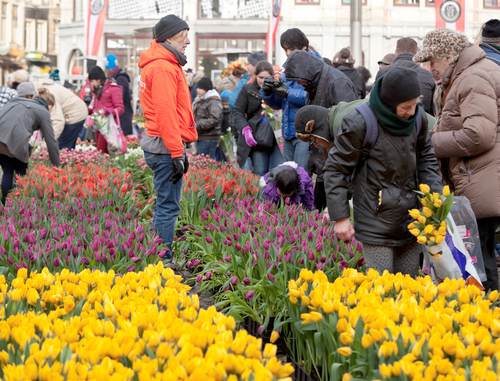 If you time and still have your bike, take the train to Haarlem where you can bike through the colorful bulb fields and find yourself surrounded by millions of tulips, crocuses, daffodils, and hyacinths – they are guaranteed not to disappoint.
Grab A Drink & Admire The View
Within easy of reach of the RAI but also close to the heart of Amsterdam, is the Zoku hotel. While some would be put off at the thought of, or even the mere idea of going to a hotel lounge to "relax" Zoku offers something a little different to the average hotel. It has incredibly laid-back atmosphere whilst also being hospitable and highly service-oriented, and as well as the guests staying on property "internationally oriented locals" are also welcome to enjoy Zoku's amazing social spaces that strike a perfect balance between work and leisure.
If you need to log on and catch up on a bit of work, the Wi-Fi here is reliable, high-speed and best of all, free! If you're a bit peckish, we definitely recommend you visit the Living Kitchen and sample their fresh and healthy dishes; or if you just want to unwind with a drink at the end of the day head up to one of their two rooftop terraces and take in the painfully scenic views of Amsterdam over a local beer… or liquor! AND if haven't yet booked your accommodation for your upcoming trip to HITEC Amsterdam – need I say any more? And when checking in you can witness our, StayNTouch's, PMS solutions at work.
** Pssst! For a 360-degree view of Amsterdam, head over to the A'DAM Tower with its Skydeck offering panoramic views of the city. At the Skydeck, you can find the highest swing in Europe, 'Over the Edge'. If you need an adrenaline kick you can swing 100 meters above the ground, back and forth over the edge of the tower with Amsterdam below your feet!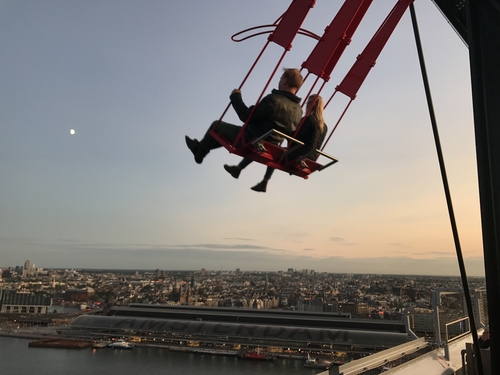 Check Out Conscious Hotels
We couldn't do a piece on Amsterdam or HITEC and only mention one of our amazing hotel clients. As the name suggests, Conscious Hotels are an environmentally conscious hotel group – they strive to be as green, sustainable and eco-friendly as possible. While in the past, being a "friend of the earth" lead to some eye rolling and conjured up images of hippies, in the climate (no pun intended!) that we currently find ourselves in, this is a very appealing offer and will become even more so into the future.
Not surprisingly they won the Best Hotel Concept 2017. Why? All their energy comes from renewable sources. Everything you see in their hotels is either recycled, or certified, or fair trade. Their breakfast and lunches are organic, along with a stock of organic drinks, tea, coffee and locally brewed beers. They have an eco-roof which homes a hive for wild bees.
All linen is ecological and fair trade and clean without chemicals. All their taps and showers save water – without you even noticing it. They have chargers for electric cars… Every aspect of the hotel stay has been considered when it comes to being kinder to the planet – even checking-in and out. It's been our privilege to help them convert all their traditional front desks to efficient self-check-in stations using our, StayNTouch's, PMS solution. And when it comes to payment they do not accept cash. It's not that it's free, it's just that they operate cashless – as of course, it's better for the environment! As they say, they could "go on, and on, about ourselves and our greenliness, but you could also just come by and see for yourself!"
OH! And if you still haven't rented a bike yet, you can rent a Roetz Bike at their reception!
There's so much to see and do while in Amsterdam, these are only a few suggestions that you might be able to squeeze into your trip! And don't forget we're also attending HITEC so if you want to drop by our stand or meet with a StayNTouch team member at HITEC Amsterdam, get in touch with us today! We can arrange a meeting where you will not only get to see our powerful, intuitive mobile PMS in action but you can test drive them yourself!
Hope to see you there!