IDeaS Revenue Management System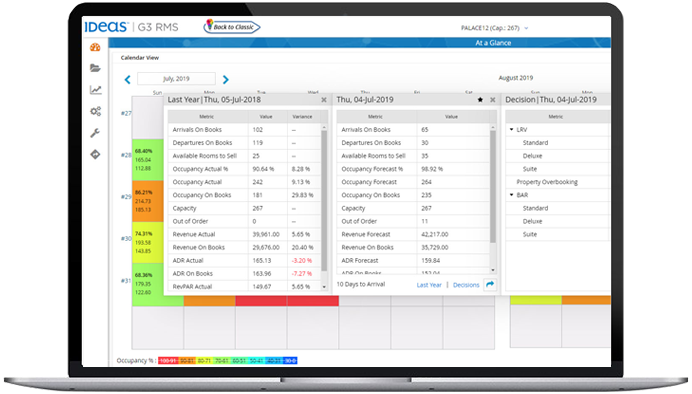 Product Description
IDeaS G3 RMS
Delivers scientific pricing and inventory decisions at the room type and rate code level to drive optimal revenue performance. Interactive and automated pricing, restriction and overbooking decisions help to maximize RevPAR across available demand and room-type upgrades.
IDeaS RMS
Provides reliable and up-to-date information that empowers revenue managers to manage by exception and book the ideal guest at the idea time at the ideal rate. Accurately forecasting business demand using powerful analytics that analyze hotel and relevant market data.
Why This Product?
IDeaS provides a deep-learning, data science-driven approach that leverages advanced SAS analytics to support hospitality business problems. Our products offer multiple approaches to pricing to meet business, technology and guest needs. This unique approach considers many elements of the price-demand relationship to provide optimal pricing.
Who Uses This?
Any hotel. From big corporate chains to small mom-and-pop boutique properties. Our sophisticated yet simple-to-use hotel revenue management system is more effective than rules-based imitators and leverages advanced data analytics for automated decision-making.
Key Features
IDeaS G3 RMS
Machine learning data science driven approach to analytics, multiple approaches to pricing such as Continuous, Daily and Length of Stay, optimally prices each product and room type based on unique characteristics, automated to continually learn and adapt to how pricing and control impact the booking pattern and demand to improve outputs, automatically weights the true influence of competitors pricing and reputation, and ensure hotels can capture the most optimal mix of demand by segment, room type and length of stay

What-if Analysis quickly simulates the impact that pricing, demand, wash and overbooking decisions have on forecasts and pricing—prior to making changes. Pricing Investigator helps users understand and build confidence in how pricing outputs were derived.
High Performance SAS Analytics


Multiple Room Type Pricing Options


Pricing Multiple Products, Group Evaluations


Manage by Exception Automation


What-If Analysis


Pricing Investigator


Market Demand and Business Optimization.
IDeaS RMS
Accurate Demand Forecast


Manage by Exception Automation


Multiple Pricing Options


Business Optimization Mix


Group Evaluations


Market Intelligence Data


Multiple Reporting Options


And Proactive Alerts