Marketing Automation and Guest Intelligence By Cendyn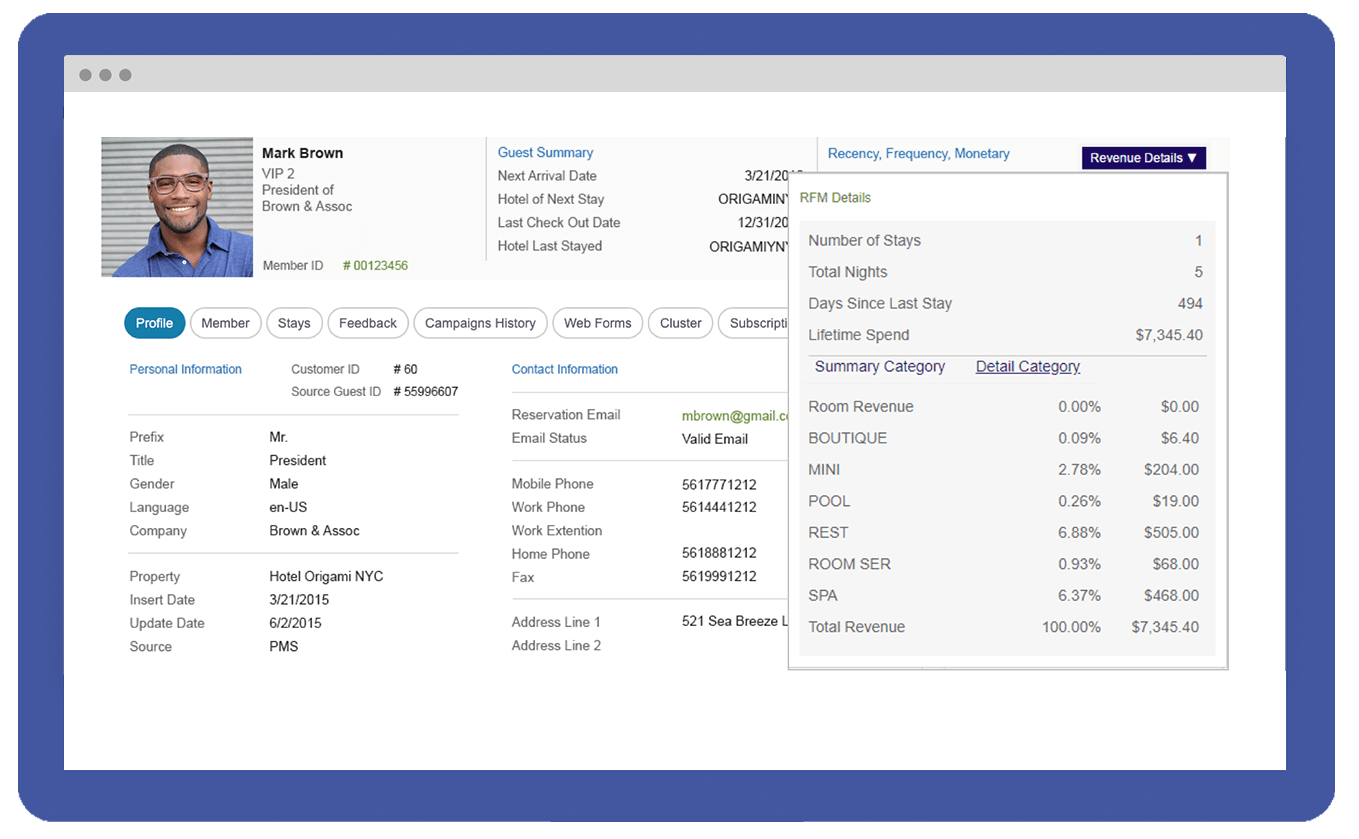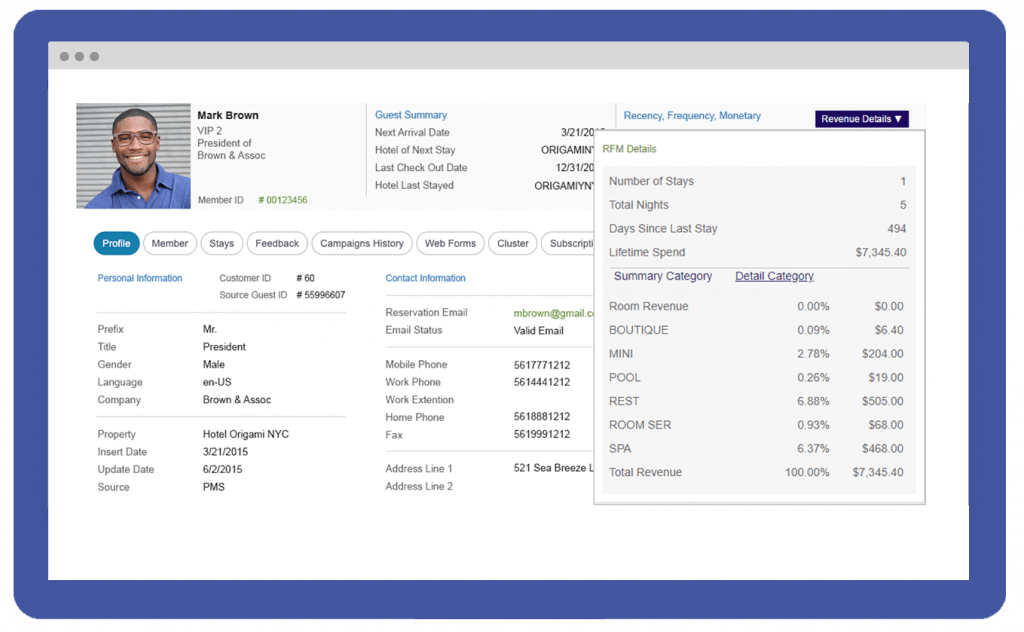 Product Description
eInsight CRM
eInsight CRM provides marketing automation and guest intelligence for enterprise hotels, multi-property and multi-brand hotels. Drive loyalty and leverage real-time data to provide personalized one-to-one communications for every guest.
rainmaker (RMS)
Rainmaker is a revenue management solution built to optimize profit for every segment of hotel group and transient business.
Why This Product?
eInsight CRM
eInsight CRM is a comprehensive Customer Relationship Management (CRM) platform for hotels, that consolidates, engages and measures disparate data points on travelers throughout the guest journey. Rules-based automation combined with sophisticated personalization and upsell opportunities allow hoteliers to learn more about their guests, enhance loyalty and drive revenue across their business.
rainmaker (RMS)
rainmaker helps you go beyond a rules-based revenue strategy and allows you to benefit from true science. Built as a true revenue and profit optimization solution, rainmaker understands what's going on in your market and at your property, allowing it to react and make the most optimal pricing suggestions accordingly. 
Who Uses This?
eInsight CRM
Enterprise hotels, multi-property and multi-brand hotels
rainmaker (RMS)
All hotel types (boutique, independent, enterprise, multi-property, multi-brand and more)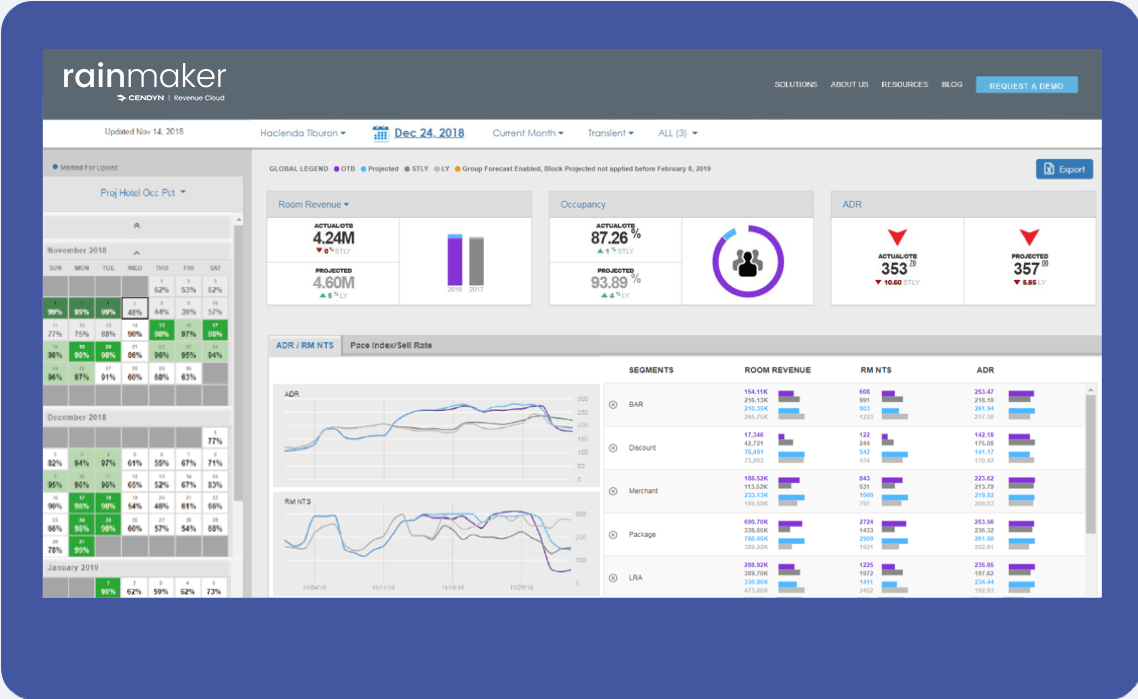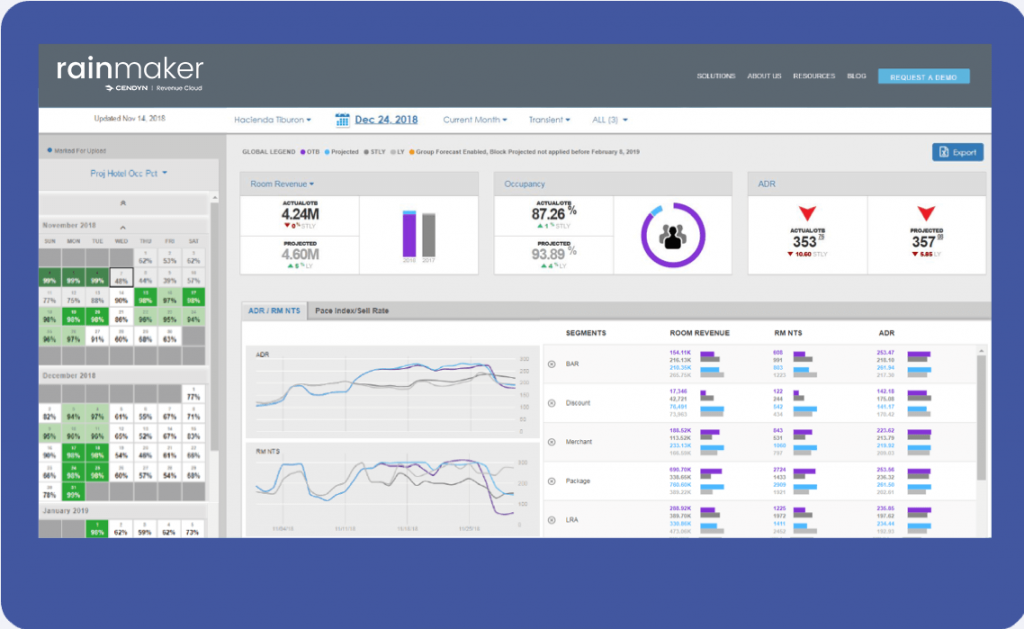 Key Features
eInsight CRM
Rules-based automation combined with sophisticated personalization and upsell opportunities allow hoteliers to learn more about their guests, enhance loyalty and drive revenue across their business.

A single source of truth for your data. Each guest profile is like a fingerprint. They leave behind a trail of favorites, likes, dislikes, hotel stay choices and destination offers. Keep all this data in your master Guest Profile – the single source of truth for your data.


The most powerful segmentation in hospitality. Build, segment, manage and forecast your target Audiences to created tailored, personalized communications for every guest, throughout the travel journey.


Showcase your brand with multichannel marketing. Use Cendyn Studio to create beautiful, on brand email marketing campaigns targeted with the right message for the right guest. Use dynamic content and segmented audience builders to tailor your message.


Advanced business rules to deliver timely guest communications. Start the conversation and automatically engage your guests before, during and after their stay with personalized email marketing and other communications tailored to their unique profile and desired audience outcome.


Create unique journeys for all your Audiences. Manage your transactional, pre-arrival, and marketing campaign life cycle using the most sophisticated journey builder for hospitality.


Build long-term relationships with your best guests. Reward guests with a personalized, distinctive loyalty experience that encourages them to keep coming back.


Enterprise reporting & dashboards personalized to your unique business goals. Google reports there are over 7,000 travel moments in a typical guest journey. Cendyn's eInsight CRM reporting tool enables you to harness this disparate data and make informed business decisions with simple, beautiful dashboards.


rainmaker (RMS)
rainmaker allows hoteliers to manage revenue accurately, efficiently, and effectively, through thick and thin. Science-based algorithms automate the heavy lifting, leaving revenue teams time to focus on the decisions that help drive profit. rainmaker customers see a 5-12% revenue lift during their first year on the platform and highly Rated recommendations from rainmaker are accepted 89% of the time. rainmaker has unique functionality that allows hoteliers to go beyond room revenue and achieve total profit optimization.
Dynamic forecasting – Accurately forecast demand for your property or group using a highly segmented approach. rainmaker produces thousands of forecasts in an instant, analyzing customer segment, length of stay, day of arrival, and room category, so you can focus your efforts on the things that matter. A customer segmentation approach that is based on guest value, market characteristics, business needs, distribution strategy, and more means your RMS is analyzing demand at a very fine level of granularity to continuously optimize results.
Total profit optimization – Go beyond room revenue with rainmaker. Capture ancillary spend across up to nine distinct categories, with configurable margins for each one, to maximize top-line revenues and achieve total profit optimization.
Know true guest value – Capture every aspect of your guests' revenue potential, down to the segment and booking channel, capturing propensity to buy, distribution cost, and profitability per guest. All aspects of total guest value contribute to achieving total profit optimization.
Flexible pricing strategy – rainmaker is designed to price each market segment and room type independently of overall demand, ensuring the maximum flexibility when setting hotel rate strategy. This flexibility avoids generating single 'hurdle rates' and relying on a PMS to apply discounts and markups.
Special event management – Configure special events on your rainmaker calendar and allow the algorithm to forecast based on similar events in the past, making events easier and more streamlined to manage.


Anomaly detection – Accounting for uncertainty with rainmaker allows you to manage the inherent unpredictability of your business. Forecasts can be configured to react to the most recent trends, including bookings, cancellations, final counts of arrivals or room nights, and competitor rates. If things do take a turn for the worse or, the better, rainmaker recognizes the impact of the changed circumstances, and adjusts accordingly. When things rebound, the system quickly corrects course. rainmaker auto outlier-detection algorithms recognize a shock to the system allowing you to exclude those observations to ensure the accuracy of future forecasts.


Optimized Group pricing – rainmaker's sophisticated group pricing algorithm analyzes won/lost data from the Sales & Catering system along with the associated price points to derive a price elasticity curve at a micro-segment level, resulting in a best-in-class price optimization when quoting group requests. While other group pricing approaches rely solely on transient displacement to produce what is needed to simply break-even, rainmaker's algorithm selects the price that is expected to strike the optimal balance between the profit from the group and the likelihood the group will book, ultimately resulting in the most profitable outcome.


Manual override – In times of need and extreme circumstances, hoteliers should be able to override both forecast and price recommendations. rainmaker allows hoteliers to combine the efforts of science-based algorithms and human interaction to provide the most accurate forecast and pricing for your property, whatever the situation.
For more information, head to www.Cendyn.com