Teres Point of Sale by Springer-Miller Systems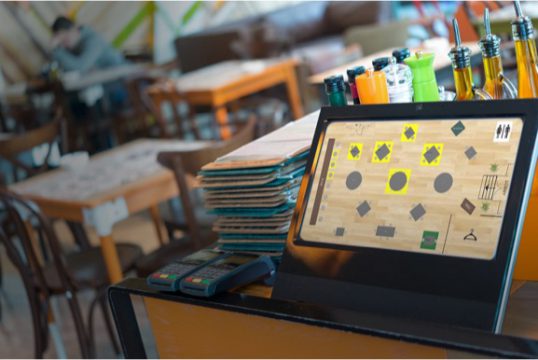 Product Description
Teres Point of Sale by Springer-Miller Systems (SMS) is a flexible, easy to use, guest-centric Point of Sale. It's designed to handle the needs of any hotel or resort. With customizable screens and unlimited options, Teres POS accommodates any property and is easily adaptable to fit the way you operate.
Why This Product?
Teres POS provides your property with a fully integrated point of sale solution that streamlines operations, simplifies the transaction process, and enhances service capabilities. Stay in control, while running an efficient business that is sure to improve guest satisfaction.
Fully scalable solution that can grow as the needs of your property increase

Secure payment processing leveraging industry standard security requirements

Robust reporting including a Business Intelligence dashboard and custom report writing
Who Uses This?
Hotels and restaurants of all sizes and segments.
Key Features & Benefits
Complete Integration
Fully integrated with our SMS|Host property management solution, as well as basic integration with other third-party PMS systems, Teres POS is a truly robust and intuitive solution. With everything you need to run your food and beverage or retail operation in a single, centralized solution, all data is seamlessly integrated across the entire SMS ecosystem, ensuring a high level of data consistency and integrity.
Scalable Solution
Whether your property needs to add more workstations or additional inventory items, Teres POS easily scales as the needs of your business change. With unlimited menus, items, modifiers, and terminals, our point-of-sale solution has you covered. At Springer-Miller, we understand that operations are constantly changing, which is why you need a POS solution that is both flexible and powerful.
Secure Payment Processing
Regardless of whether your guests insert, tap, or swipe, their information must be safe and secure at all times. With payments backed by P2PE, EMV, and tokenization, guest data is protected at all times. The cost of a data breach to any property can be devastating and we take pride in our extensive security measures. This high-level of security is included with Teres POS at no additional cost.
Highly Customizable
With unlimited room layouts and table configurations, you can leverage Teres POS to suit the needs of your property. Whether your property size is small or large, our point-of-sale solution was designed to fit the way you operate. Easily customize screens to the operation type or at the user-level, and adjust the font, logos, and even check layout to truly give your solution a customized and personal touch.
Easy to Use & Deploy
Whether hosted or on premise, Teres POS is easy to install and is up and running in no time. Once deployed, the user-friendly configuration of Teres POS allows for a smooth training process, enabling your staff to learn the software quickly. The logic behind our point-of-sale solution guides staff through the software, and easy navigation of menus and tabs minimizes mistakes.
Improve Guest Satisfaction
Today's guests want to customize everything to their lifestyles, and Teres POS lets them do just that. Your staff can accommodate guest requests, such as splitting or creating group bills, transferring or dividing items, and assigning specific seats or tables. With a seamless dining process, guests are more satisfied and your property and more likely to give your property a positive review.