Article
Hotel Technology – The Easiest (and Most Costly) Decision is Not to Make a Decision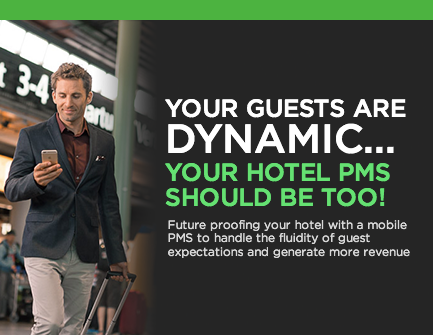 If you look on the popular software review site Capterra, you'll find 75 property management systems providers listed. The number of hotel technology vendors increases when you get to the point of sale (POS) systems, Wi-Fi solutions, telephone (PBX) hardware and software vendors.
Brian Young, the Managing Director of the Castle Hill Inn in Newport Rhode Island, commented that "There are so many providers of platforms, primary systems, and secondary systems that the decision-making process becomes highly involved. While running a hotel, you need to constantly stay informed about the latest hotel technologies available and their relevance to your business. It's challenging to keep up."
So once again it is understandable that sometimes it is just easier not to make a decision. The hotel technology landscape is moving at light speed so fully comprehending the emerging developments, their applicability to your operations and ROI both from a cost and time/training perspective need to be ascertained before moving forward. So how does a GM or IT Manager decide what hotel software systems to invest in and when is the best time to implement these systems? There are some basics that should be part of the decision-making process if you are considering investing in a new PMS hotel system for your property.
Does it integrate well with all the other systems you have on the site that will be complimentary to the new product?
Does it have the necessary requirements to do the job?
Is it technologically advanced and scalable for the future (cloud, SaaS, )?
Does it help your hotel drive revenues and guest satisfaction?
Does it help you change the game and deliver exactly what the guests are looking for?
No longer should the decision be made solely based on feature/functionality of the hotel management software, but on how these capabilities genuinely complement the guest experience. Any new system should also make employees' lives easier so they can spend more time cultivating relationships with their guests and delivering the best service possible.
Just a few years ago, the leading criteria for choosing a new hotel property management system, would have been as follows:
Reporting
Functional Design
System Features
Training and Support
Security (PA-DSS)
Corporate Reputation
These requirements all matter in any decision-making process, but now there are new variables that ultimately make things more complicated.
Freedom is something that is rarely taken into consideration when procuring a system. The freedom to integrate, deliver services, provide the cost model that works best for your hotel, as well as empowers your staff to build relationships with your guests. Freedom is a critical element to evaluate when you embark on the journey to look for any new hotel PMS. Ultimately, the goal is to provide the executive management team as well as the front-line employees the freedom to run the hotel, not spend their valuable time running the technology that runs the hotel.
These hotel technology decisions will never be easy, but delaying a decision to upgrade to a new system could have a detrimental impact on your guests and potential revenue streams. Also, older systems can be expensive, with antiquated support and maintenance models. You may find that moving to a more modern platform decreases your overall cost burden.
Finally, the right decision can be made easier if you work with a trusted partner with proven industry expertise rather than just a tech vendor. It is true that the term "partner" gets used too frequently – but if you can find a technology provider that actually does become your partner, they can help you grow your business, decrease your costs and increase your revenues. In the end, winning in business is all about making decisions and executing on them. Your success depends on your ability to develop speed as a habit in both.