Hotel group takes its collection mobile with StayNTouch's cloud-based PMS solutions
Bethesda, MD – JANUARY 5, 2016 – StayNTouch, an innovator in mobile technology and Property Management Systems (PMS) for hotels, is pleased to announce it's partnership with Modus Hotels where it will deploy its StayNTouch Cloud PMS and StayNTouch Guest Mobility products at seven Modus hotels in Washington, DC and Philadelphia, including: Avenue Suites Georgetown, The River Inn, The Normandy Hotel, Hotel Hive, One Washington Circle Hotel, Pod DC and the Windsor Suites.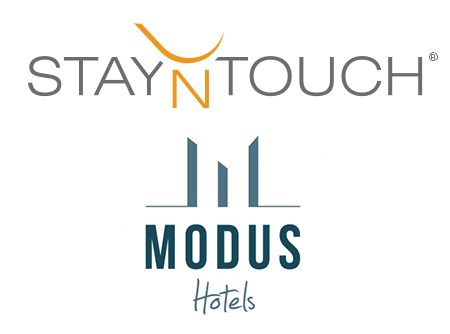 "Our hotel technology goal was two-fold: stay ahead of the innovation curve and leverage a mobile PMS to make the guest and colleague experience more efficient," said Aaron Katz, President & CEO of Modus Hotels. "StayNTouch checks off both of those boxes with their solution set. The fact that StayNTouch Rover is a cloud-based PMS was absolutely a factor in our selection decision. For Modus, accessibility to the PMS is key. We need to access data and functional operations from any device and any location."
StayNTouch offers hotels the opportunity to integrate multiple cloud-solutions on one platform:
StayNTouch Cloud PMS: Next generation Hotel PMS, fully cloud, fits on every device, optimizes hotel operations from front desk, to groups, to housekeeping to revenue management. Simple monthly pricing that includes training, integrations and configuration.
StayNTouch Guest Mobility: Enables guest pre-engagement and guest services via mobile web. Guest-enabled mobile check-in & out via smart phone or desktop. Private labeled, PMS-integrated mobile check-in &/or checkout. Bill review, preference collection, upsell opportunities, and remote key fulfillment. Promote and monetize late checkouts.
"We are delighted to be working with the team at Modus Hotels," said Jos Schaap, CEO-Founder of StayNTouch, "The management team has been a strong advocate of using cloud-based, mobile technologies to differentiate the guest experience at their properties. We appreciate their confidence in our solutions and look forward to a bright and profitable future together."
About StayNTouch Inc.
StayNTouch is a "Software as a Service" hotel property management systems (PMS) company focused on developing solutions that help hotels raise service levels, drive revenues, reduce costs, and ultimately change the way hotels can captivate their guests. Developed with mobility in mind, the pioneering platform enables hotels to create long lasting relationships with their guests by delivering personalized service levels that today's guests require. StayNTouch operates on tablets and smartphones, empowering hotel employees to go above and beyond in exceeding guest expectations at every touch point.
Powering over 65,000 rooms globally, our game-changing solution frees hotels from the constraints of legacy or premise systems, dramatically streamlines operations, increases margins, and revolutionizes how front-line staff connect with guests. StayNTouch is a trusted partner to many of the most forward thinking hotels, resorts, casinos and chains in the industry, including Yotel, Zoku Amsterdam, Valencia Hotels, The Freehand Hotels, Porto Vista San Diego and the Fontainebleau Miami Beach.
To learn more watch our video "THE NEW WAY… TO HOTEL!"
Twitter: @StayNTouchInc
Facebook: facebook.com/stayntouch
LinkedIn: LinkedIn/stayntouch
For more information, contact:
Karen O'Neill, Vice President of Sales & Marketing
StayNTouch Inc.
Tel: +1 301 476 4222
Email: karen@stayntouch.com
About Modus Hotels
Modus Hotels is a Washington, D.C. Lifestyle Hotel Group that develops, owns and operates a portfolio of hotels and restaurants in various cities. Designed for the independent-minded traveler, each hotel in the collection offers a unique experience for those seeking an alternative to the predictability of an ordinary hotel. The Modus Ethos is to provide our guests with inventive, personal and approachable service and amenities in residentially styled settings. Located in diverse cities and neighborhoods, there is a Modus Hotel to fit each individual taste and lifestyle. Each hotel tells a story, through distinctive amenities and partnerships delivered with personalized service, to offer a truly different urban experience. Modus' diverse group of properties includes Avenue Suites, The River Inn, One Washington Circle Hotel, The Normandy Hotel (all in D.C.), The Windsor Suites Philadelphia, Comfort Suites Chicago, Brookshire Suites Baltimore and Virginian Suites in Arlington, VA.
Modus Hotels is developing the first POD Hotel outside of New York, scheduled to open in 2017 in the trendy Penn Quarter neighborhood. The 245-room property will feature bold and stylish design elements crafted by the New York design firm of Stonehill & Taylor. For more information, visit www.modushotels.com or call 202-331-3800. Follow Modus on Facebook at www.facebook.com/modushotels, Twitter @modushotels and Instagram @modushotels.