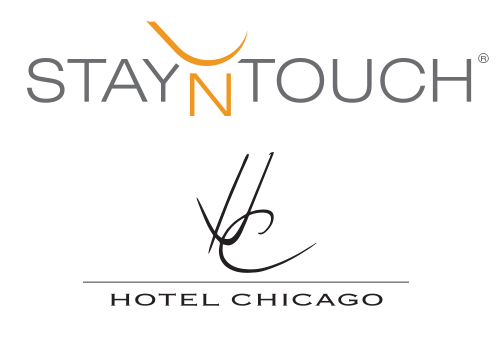 Bethesda, MD – Feb 16, 2017 – StayNTouch, an innovator in mobile technology and Property Management Systems (PMS) for hotels, announced the deployment of its StayNTouch Cloud PMS and StayNTouch Guest Mobility solutions at Hotel Chicago – Illinois Medical District (IMD), a 116-room independent in Chicago's West Loop neighborhood.
"Our guests are savvy travelers who are already self-empowered through their use of technology, so the StayNTouch platform fits right into their lifestyle," said Imran I. Jivani, General Manager of Hotel Chicago-IMD. "Guests are served in the way guests want to be served. Like many boutique hotels, we run lean, so the self-check-in is a huge relief for our staff, who can instead focus more on servicing people. And the people who don't want to have a "service moment" are just as happy as those who do.
"StayNTouch has given us a competitive edge," continued Mr. Jivani.  "We're delivering a technology amenity that until recently was only available to the top 5% of big brand hotels and their loyalty members. We offer this new mobile experience to every guest as a standard part of their stay, which levels the field for us."
StayNTouch offers hotels the opportunity to integrate multiple cloud-solutions on one platform:
StayNTouch Cloud PMS: Next generation Hotel PMS, fully cloud, fits on every device, optimizes hotel operations from front desk, to groups, to housekeeping to revenue management. Simple monthly pricing that includes training, integrations and configuration.
StayNTouch Guest Mobility: Enables guest pre-engagement and guest services via mobile web.  Guest-enabled mobile check-in & out via smart phone or desktop.  Private labeled, PMS-integrated mobile check-in &/or checkout.  Bill review, preference collection, upsell opportunities, and remote key fulfillment.  Promote and monetize late checkouts.
"We are delighted to be working with the team at Hotel Chicago-Illinois Medical District," said Jos Schaap, CEO-Founder of StayNTouch, "Like many independent hotels, their success is dependent on their ability to provide a service model that aligns with their guests' expectations. They have shown that forward-facing property management system technology transforms and improves the hotel experience for both staff and guests."
About StayNTouch Inc.
StayNTouch is a "Software as a Service" hotel property management systems (PMS) company focused on developing solutions that help hotels raise service levels, drive revenues, reduce costs, and ultimately change the way hotels can captivate their guests. Developed with mobility in mind, the pioneering platform enables hotels to create long lasting relationships with their guests by delivering personalized service levels that today's guests require. StayNTouch operates on tablets and smartphones, empowering hotel employees to go above and beyond in exceeding guest expectations at every touch point.
Powering over 65,000 rooms globally, our game-changing solution frees hotels from the constraints of legacy or premise systems, dramatically streamlines operations, increases margins, and revolutionizes how front-line staff connect with guests. StayNTouch is a trusted partner to many of the most forward thinking hotels, resorts, casinos and chains in the industry, including Yotel, Zoku Amsterdam, Valencia Hotels, The Freehand Hotels, Porto Vista San Diego and the Fontainebleau Miami Beach.
To learn more watch our video "THE NEW WAY… TO HOTEL!"
Twitter: @StayNTouchInc
Facebook: facebook.com/stayntouch
LinkedIn: LinkedIn/stayntouch
For more information, contact:
About Hotel Chicago, Illinois Medical District:
The renovated historic building that houses Hotel Chicago-IMD is conveniently situated in between RUSH Hospital and West Loop's red hot Randolph Street dining corridor.   Hotel Chicago-IMD provides a stylish European boutique option for hospital visitors, students, or savvy travelers looking to enjoy a night on the town.  The art-centric property features a multitude of room types to fit every guest, including a single full, a bunk double twin, and a queen/king deluxe, with amenities like: luxurious pillow top mattress, personal Keurig, refrigerator, microwave, LCD TV with cable, ample closet space and cabinetry, sizable work area, complimentary Wi-Fi, 24-hour fitness center, complimentary coffee, in-room safe, on-site washing machines, and a private parking lot with proximity to a local garage.  Hotel Chicago-IMD is managed and operated by Portfolio Hotels & Resorts.
1622 W Jackson Blvd, Chicago, IL 60612
Phone: (312) 243-2900
hotelchicago1622.com
Facebook.com/hotelchicago1622
Instagram.com/hotelchicago
Twitter.com/hotelchicagoIMD
Portfolio Hotels & Resorts
601 Oakmont Lane
Suite 420
Westmont, IL 60559