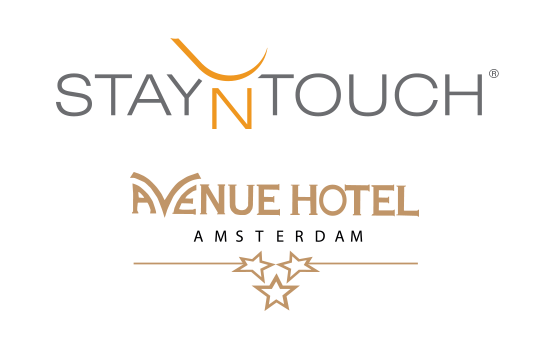 StayNTouch, an innovator in mobile technology and Property Management Systems (PMS) for hotels, announced the deployment of its StayNTouch Cloud PMS and StayNTouch Guest Mobility hotel management system at Avenue Hotel, an 82-room hotel in historic Amsterdam, The Netherlands.
"Our decision to go with StayNTouch was based on the fact that they are more than just a PMS vendor, they are a true technology partner," said Emiel Leemkuil, Revenue and Reservations Manager of Avenue Hotel. "The hotel space is in a period of tremendous evolution and we were looking for a partner who could help us respond to changes in guest expectations and new technology offerings. StayNTouch has provided the integrations we needed to be sure we are using best-of-breed solutions across our technology platform, while delivering a innovative guest experience."
StayNTouch offers hotels the opportunity to integrate multiple cloud-solutions on one platform:
StayNTouch Cloud PMS: Next generation Hotel PMS, fully cloud, fits on every device, optimizes hotel operations from front desk, to groups, to housekeeping to revenue management. Simple monthly pricing that includes training, integrations and configuration.
StayNTouch Guest Mobility: Enables guest pre-engagement and guest services via mobile web.  Guest-enabled mobile check-in & out via smart phone or desktop.  Private labeled, PMS-integrated mobile check-in &/or checkout.  Bill review, preference collection, upsell opportunities, and remote key fulfillment.  Promote and monetize late checkouts.
"In Amsterdam, Avenue Hotel services a global and digitally-savvy guest," said Jos Schaap, CEO-Founder of StayNTouch, "By delivering a mobile experience to not only their guests, but also to front desk and housekeeping staff, the Avenue Hotel team has demonstrated that forward-thinking technology decisions can deliver a competitive edge."
About StayNTouch Inc.
StayNTouch specializes in "Software as a Service" hotel property management systems (PMS) company focused on developing solutions that help hotels raise service levels, drive revenues, reduce costs, and ultimately change the way hotels can captivate their guests. Developed with mobility in mind, the pioneering platform enables hotels to create long lasting relationships with their guests by delivering personalized service levels that today's guests require. StayNTouch operates on tablets and smartphones, empowering hotel employees to go above and beyond in exceeding guest expectations at every touch point.
Powering over 65,000 rooms globally, our game-changing solution frees hotels from the constraints of legacy or premise systems, dramatically streamlines operations, increases margins, and revolutionizes how front-line staff connect with guests. StayNTouch is a trusted partner to many of the most forward thinking hotels, resorts, casinos and chains in the industry, including Yotel, Zoku Amsterdam, Valencia Hotels, The Freehand Hotels, Porto Vista San Diego and the Fontainebleau Miami Beach.
To learn more watch our video "THE NEW WAY… TO HOTEL!"
Twitter: @StayNTouchInc
Facebook: facebook.com/stayntouch
LinkedIn: LinkedIn/stayntouch
For more information, contact:
About Avenue Hotel:
A number of historic buildings make up the Avenue Hotel. Part of these premises even dates back to the 17th century. An interesting fact about the building: during the Golden Age it was used as a warehouse by the 'V.O.C.' (United East India Company). Since that time the building has had many different owners and served different purposes. It has now turned into a hotel, that is up to contemporary standards. The rooms are divided over the different parts of the hotel so they all have a unique style and shape. You can reach all floors by elevator.
Our 3-star-hotel has 82 comfortable rooms. Furthermore we offer free WIFI-connection and continental breakfast. All our rooms come with a flat screen TV, private bathroom with shower and/ or bath, air conditioning and a desk.