Bethesda, MD – JANUARY 17, 2016 – StayNTouch, an innovator in mobile technology and Property Management Systems (PMS) for hotels, is happy to announce a new integration between Rover™, its cloud-based property management system (PMS) and Vertical Booking, a global central reservation system for hotels.
The Vertical Booking Suite, used in more than 80 countries, includes a Booking Engine, Synchro Channel Manager, a Metasearch Manager, a CRO (Central Reservation Office), GDS Connectivity and Representation, Marketing and Intelligence Tools, and Applications (iOS/Android).  Vertical Booking reservations flow through to StayNTouch's Rover where inventory is adjusted accordingly.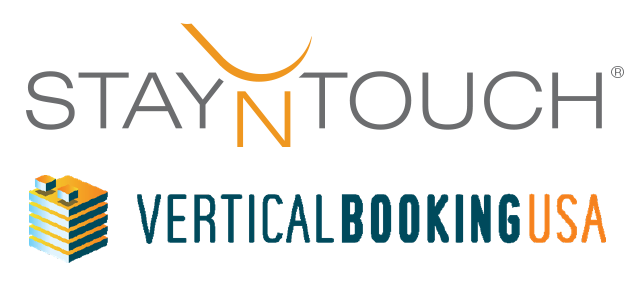 "Like us, StayNTouch provides an intuitive, easy-to-use interface to a complex set of hotel software functions," said Mark Lewis-Brown, CEO/President of of Vertical Booking USA. "They are an ideal partner for us and our independent hotel and chain customers who are looking for an edge in the highly competitive hospitality sector."
"Vertical Booking provides tremendous value to Independent hotels via its broad and direct distribution reach," said Jos Schaap, CEO and Founder of StayNTouch. "Our partnership means that hotels now have a complete, integrated and synchronized solution for managing guest reservations from sales to check-out."
For more information about StayNTouch, contact:
Frewoini Golla, Marketing Manager
StayNTouch Inc.
Tel: +1 301-799-3280
Email: frewoini@stayntouch.com
About StayNTouch Inc.
StayNTouch is a "Software as a Service" hotel property management systems (PMS) company focused on developing solutions that help hotels raise service levels, drive revenues, reduce costs, and ultimately change the way hotels can captivate their guests. Developed with mobility in mind, the pioneering platform enables hotels to create long lasting relationships with their guests by delivering personalized service levels that today's guests require. StayNTouch operates on tablets and smartphones, empowering hotel employees to go above and beyond in exceeding guest expectations at every touch point.
Powering over 65,000 rooms globally, our game-changing solution frees hotels from the constraints of legacy or premise systems, dramatically streamlines operations, increases margins, and revolutionizes how front-line staff connect with guests. StayNTouch is a trusted partner to many of the most forward thinking hotels, resorts, casinos and chains in the industry, including Yotel, Zoku Amsterdam, Valencia Hotels, The Freehand Hotels, Porto Vista San Diego and the Fontainebleau Miami Beach.
To learn more, watch the StayNTouch video "THE NEW WAY… TO HOTEL!"Twitter: @StayNTouchInc
Facebook: facebook.com/stayntouch
LinkedIn: LinkedIn/stayntouch
For more information about Vertical Booking, contact:
Mark Lewis-Brown, CEO/President
Vertical Booking USA (VBU)
www.verticalbookingusa.com
mark.lewisbrown@verticalbooking.com
Phone: +1 503-343-4263
Click here to watch the Vertical Booking Welcome Video
About Vertical Booking
Representing over 4,500 hotels Vertical Booking is a global reservation technology company that meets the needs of chains and independent hotels by optimizing distribution for revenue management. Founded in 1999, Vertical Booking is present in 78 countries, translated into 28 different languages and usable in all currencies, with offices in Italy, France, the United Kingdom and the United States. Known for its agility and scalability, Vertical Booking's innovative technology solutions include a central reservation system for GDS/IDS distribution, a robust booking engine including a spa and gift certificate platform, a channel management system, a destination management system and reservation call center services. Furthering its clients' marketing and revenue generation strategies, Vertical Booking also delivers website development, digital marketing, intelligence and analytics. www.verticalbooking.com / www.verticalbookingusa.com
Facebook https://facebook.com/VBookingUSA
Twitter https://twitter.com/VBookingUSA
LinkedIn https://www.linkedin.com/company/verticalbookingusa