Revinate Hotel CRM Integration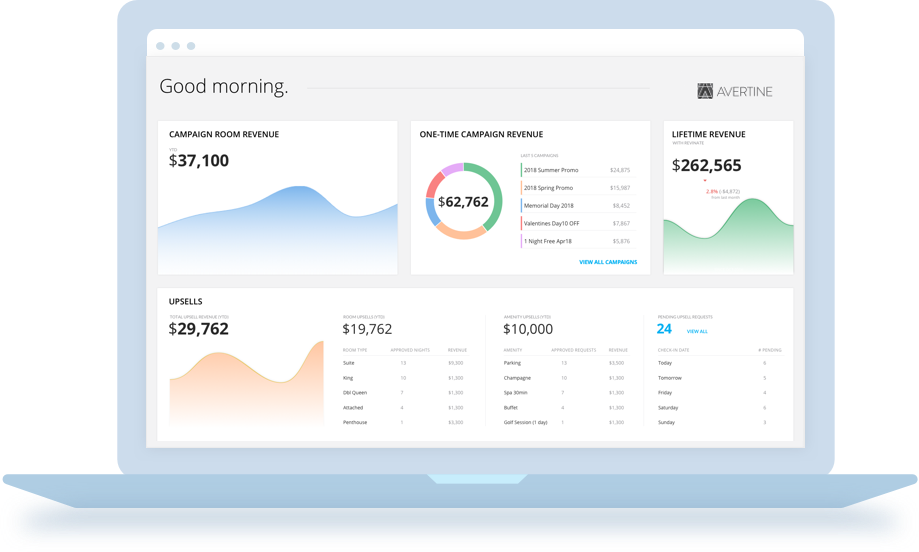 Product Description
Revinate's hotel CRM let's you know your guests better and build better guest relationships with rich guest profiles and data-driven insights.
Why This Product?
Integrate your data from multiple sources into a hotel CRM for a holistic view of your guest in one place and leverage rich guest data to identify how to better serve and communicate with your guests. Use your CRM to drive more direct bookings by segmenting and targeting your potential guests and sending them personalized communication that resonates with them and drives direct bookings.
Who Uses This?
All hotel segments from independent hotels to groups and enterprise chains.
Key Features
Create profiles with guest data pulled directly from your property management system(s).
Easily access your guests' stay history, campaign engagement, post-stay surveys, loyalty, total lifetime value, and more.
View guest stay history, including reservation details, rate, property, booking channel, and upsell requests.
See how well your hotel guests are engaging with your email marketing campaigns.
View past survey results to see a guest's overall satisfaction with your hotel(s).
Use lifetime spend, number of stays, booking channel, and NPS score to deliver personalized campaigns that reward hotel loyalty.
Capture guests' preferences before they arrive to deliver better experiences and communications.
Build dynamic guest segments to send relevant and valuable email campaigns to your database.
Use Database Insights to gain powerful, real-time insights into your guest data so you can make better marketing and operating decisions.
See how healthy your guest database is and how well you are collecting valid email addresses and other key data.
Determine your highest conversion channels so you can focus your marketing efforts accordingly.
Identify your top performing countries and cities to send localized email marketing campaigns that feel personal.
Boost hotel campaign performance by understanding how far in advance guests book, length of stay, number of nights, seasonal trends, and lifetime stays.
Create multi-hotel profiles, synthesizing guest data from across all your properties to give you a complete picture of your business—even if your hotels are on different PMSs