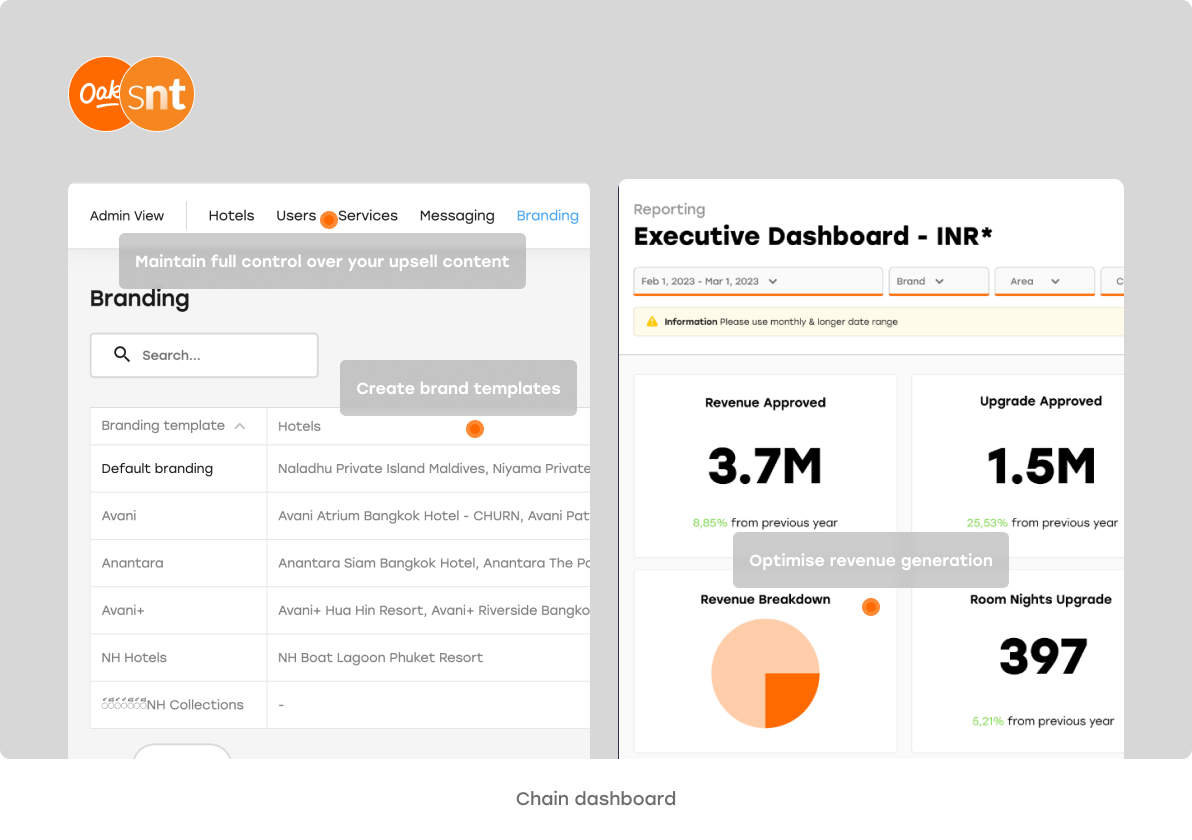 Product Description
Oaky is an upselling software that helps hotels boost their revenue by offering relevant upgrades & services to their guests throughout the whole guest journey. Oaky drives additional profit and enhances the guest experience by:
Pre-stay Upselling Using firsthand data & insights | Oaky sends targeted room upgrades & services to the right guest at the optimal time pre-arrival. It helps inform your guests about available offerings and encourages them to spend more.
Front-desk Upselling | Transform your upselling efforts at the front desk and boost ancillary revenue by 5-9 times. Your front desk agents get instant access to the information they need for more successful upsells, such as room upgrades/services availability, pricing as well as guest reservation data.
In-stay Upselling | Provide guests with ongoing access to your upselling deals through QR codes or in-stay messaging. Let them browse and book deals at their convenience and help your team handle guest requests faster.
Why This Product?
Oaky empowers hoteliers to maximise revenue opportunities while elevating guest experience through advanced branding, personalised offerings, effective segmentation and pricing strategies. Oaky has been recognised as the Best Upselling Software by Hotel Tech Report for 6 years in a row and is trusted by hotels, groups and chains across the globe, including the ONYX Hospitality & Radisson Hotel Group.
Who Uses This?
Oaky is trusted by more than 2000 hotels across 102 countries. Oaky offers supercharged upselling for premium and luxury hotels as well as hotel groups and chains. Multi-property dashboard allows to align and optimise upselling initiatives while enhanced branding keeps a personal touch to every guest. Happy guests. More revenue.
Key Features?
Cross-channel distribution – Reach your guest via their preferred channel Dynamic pricing – Sell room upgrades at the right price based on your PMS pricing or take your rates to the next level using RMS data.


Branding – Fully customise Oaky to your brand Services library – Choose from over 100+ pre-filled & translated deals.


Reporting – Track your upsell performance on hotel or chain level Chain dashboard – Manage all upselling initiatives from a single, easy-to-navigate dashboard Availability management – Show deals based on availability and seasonality