NCR Aloha POS Integration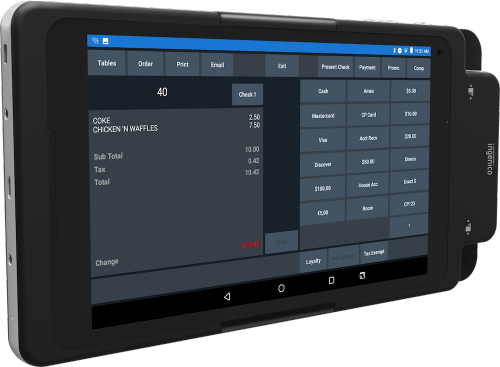 Product Description
NCR Aloha POS Everything you need to run your restaurant in one powerful POS platform. Purpose-built for full-service, quick service, and everything in between.
Why This Product?
Never lose a transaction
Secure payments of all types, including contactless
Durable hardware
Over 200 third-party integrations
Mobile POS capabilities
Robust, end-to-end restaurant management platform
Personalized customer phone and onsite support services
#1 rated by restaurant staff
Backed by 35,000 employees
Global-ready
Over 135 years of experience helping businesses
Expert NCR and multivendor technology support enabled by 20,000 service professionals worldwide
Who Uses This?
All restaurant and outlet segments from full-service to quick service.
Key Features
Use a mix of both fixed and mobile POS stations, depending on your business operations. From enforcing your business rules automatically to ensuring accurate sales tax calculations, we've got you covered.
Designed for all restaurant concepts – table service, quick service, fast casual and bars
Supports complex combo, pizza and wing functionality
Supports suggestive sales prompting, conversational ordering, items configured with forced modifiers, nested modifiers, tip share and creation of multiple revenue centers
Mobile version of the software available on iOS and Android devices
Contactless dine-in
Print QR code that can be affixed to a table, your door or in parking spaces for curbside
Guests easily and securely scan the QR code with their own smartphone to open a check, place an order and pay – all without touching anything
Tipping is easy with suggested gratuity percentages or the option to add a custom tip available for the guest to choose
After payment, a receipt is emailed to the guest and gives you the ability to collect their contact information
Online ordering
Access a web portal that shows you detailed views of consumer orders and makes it simple to customize and preview images and font options
Create and own your own branded channels to directly connect with your guests
Leverage for a single site or multiple locations
Takeout and curbside pickup
Manage digital orders through one system – on-the-fly quote time management, integration to Kitchen and capacity management
Associate loyalty and payment information with checks to enable customers to earn rewards
Enable guests to schedule and hold future orders to automatically move to production – protects future orders from getting lost with automated kitchen scheduling
Includes recognition capabilities like caller ID lookup and association of multiple phone numbers/addresses with each customer
Direct integration with third party delivery marketplaces
Gift cards and basic loyalty
Create basic loyalty programs and easily manage distribution and redemption of physical and digital gift cards
Apply real-time promotions on the POS automatically when a reward is earned
Configure stored value physical and virtual cards from one location for all stores or at the store level
Create basic loyalty program (i.e. points or punches)
Track reward milestones like enrollment and birthdays
View reporting that tracks enrollment, program details, and ROI
Secure payments & payment devices
Accept cash, credit, debit, EMV, EBT, gift cards, RFID and mobile wallet payments
Use point-to-point encryption (P2PE) and tokenization to enable secure routing of payment data
Centrally manage and track payment devices, PIN pads and more
Easily add contactless payments via QR codes to your operations
Advanced reporting
Includes 380 standard reports and an export builder that enables customization
Schedule reports and alerts emailed on a periodic basis
Integrates with many accounting packages – QuickBooks, Great Plains, Lawson, MAS 90/200, Solomon, ACCPAC and others
Integrates to payroll packages including Automatic Data Processing (ADP), Millennium and others
Data & Analytics
Up-to-the-second real-time synch of transaction data between the POS and the mobile management app on your phone
Breakdown of net sales by hours, day part, revenue center, category and order mode
Scorecard ranking of each employee's sales, tip averages and other analytics
Ability to drill into check level detail on your phone
Compare number of guests in your restaurant to the number of staff clocked in for better coverage
Compare and contrast sales and labor KPIs across multiple stores with time over time comparisons
Cloud-based Systems Management
Update your database on demand in real-time to make immediate menu and item changes
Easy and secure one-click access to site systems, configurations and status of resources
Enterprise-wide insight and management of all POS, kiosk and back office devices