Manage Availability & Prices For Booking Channels By Cubilis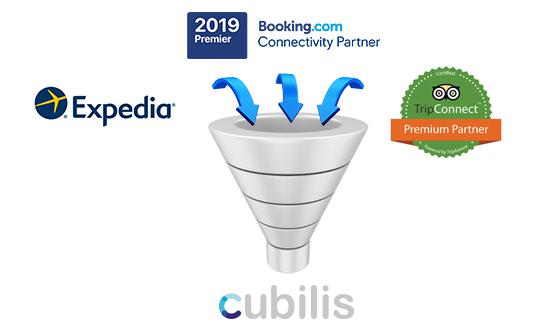 Product Description
Cubilis Channel Manager
The perfect tool to manage availability & prices for booking channels, such as Booking.com and Expedia.
Cubilis Booking Engine
A booking module for your own website which helps you receive more commission free direct bookings.
Why This Product?
The Cubilis© Channel Manager can connect to a lot of different booking channels. We attach great importance to the quality of these connections. That is why Cubilis is preferred IT partner with Booking.com, Expedia and Premium TripConnect partner of TripAdvisor.
Who Uses This?
All types of accommodation, such as hotels, B&Bs and hostels.
Key Features
Cubilis Booking Engine
Cubilis Booking Engine (IBE) is a reservation and availability module for your own website which does not charge any extra commission or transaction fees. The Booking Engine encourages your guests to book on your website which lowers your commission costs and increases your revenue.
Mobile friendly reservation system
No commission
Integration with Cubilis Channel Manager
PCI Compliant
Integration on your Facebook page
Customisable
Connections wtih Airbnb, Trivago, Booking …
Cubilis Channel Manager
Cubilis Channel Manager is part of the Cubilis Hotel software package. The Channel Manager makes it possible to manage all your prices and availability of your booking sites (OTAs) on one central dashboard. This reduces your administration work, avoids possible overbookings and increases your revenue.
One central control panel
Fast management of availability and prices
Save time
Avoid overbookings
PCI Compliant
No extra commission fees
More than 350 connections (PMS, RMS, OTAs, …)
Preferred IT partner of Expedia, Booking, TripAdvisor …