Aavgo – Digital App For In-House Guests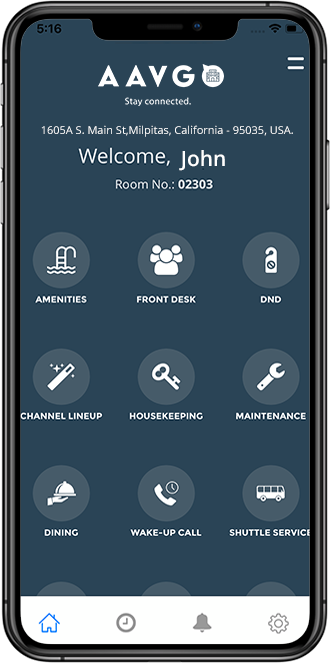 Product Description
A digital app for in-house guests that provide guests the comfort and convenience to use your amenities and services at their fingertips.
Why This Product?
Guests can digitally check in, chat with front desk, order room service, view menu, request extra towels, book a shuttle, check-out and much more without them needing to pick up the phone.
Key Features
Digitize In-Room Paper: Eliminate papers in the rooms and save unwanted costs. Guests can view directory, menus, channel guides, nearby attractions, and much more on their own device or via in-room device.
Eliminate language barrier at your property: Elevate guest experience with multi-language support that guest can use to chat with staff.
Create service requests: Guests can now request on demand room clean service, order extra towels, book shuttle, raise maintenance issue, setup wake up calls and DND from their mobile or in-room device. No need for them to call or go to the front desk.
Room Service: Guests can now order room service from the restaurant inside and around the hotel from their mobile or in-room device. No need for hotels to keep their restaurants closed or loose commissions from nearby restaurants.
Digital Room Control: Guests can control lights, thermostat and other electrical appliances via guest app and in-room devices.
Report A Lost Item: Guest can report lost item to hotel diretly from AavGo app after check-out.
Commission-free reservations: Guests can ping the front desk directly and book their next stay through AavGo app on their phone. No need for hotels to pay commissions to OTA's for recurring guests.