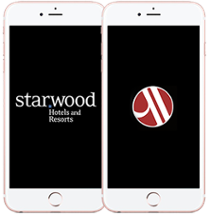 November witnessed the merger of the Marriott and Starwood brands to create the world's biggest hotel company. Together, the companies will operate or franchise 5,500 hotels with a total of 1.1 million rooms spanning 100 countries across the globe. Starwood brands include W Hotels, St. Regis, Westin and Sheraton, and in addition to it's own large chain, Marriott also operates Courtyard and Residence Inn hotels.
Much of the online conversation around the merger of the two brands has focused on their individual loyalty programs and what it will means for customers. The merger sees both companies having a combined total of 75 million customer accounts in their respective rewards programs spread across 30 brands. However, what about the technologies offered in their properties, including mobile?
Starwood is already seen as a pioneer of hotel technology; they have always been very innovative and currently offer their guests digital room keys, allowing guests to use smartphones to unlock rooms using Bluetooth, mobile check-in and functionality through the Apple Watch app. "This is just the beginning, because through mobile, we have the opportunity to marry high tech and high touch to transform the hotel experience in many exciting ways." Starwood CIO, Martha Poulter.
Marriott offers both mobile check-in and check-out via their Marriott Rewards app, as well as Apple Pay. They also announced that their (Bluetooth) mobile keys are expected to debut later this year – and for guests who prefer a physical key, the option to print a key at a kiosk in the lobby is also being tested by Marriott. Between the two of them, they provide a comprehensive mobile offering that eliminate points of frustration for the guest and improves the overall stay experience.
But what will this mean for the non-Marriott-Starwood hotels? With the worlds largest hotel company adopting specific mobile technologies, will this be the catalyst that will cause an acceleration for broader adoption of digital room keys, mobile check-in and check-out and kiosks in hotel lobbies by other hotels? If they standardize these technologies across all their chains and brands will this result in creating a new normal (i.e. will there be a higher expectation by customers of other hotels to have similar offerings in place)?
Not only could the Marriott-Starwood union change the expectations of hotel guests in terms of more flexibility over their stay, but Marriott-Starwood are also taking on the OTAs through their adoption of mobile technologies. Guests of Marriott-Starwood can only avail of mobile features by booking direct and using the respective hotel apps, they are not available to those who book through Hotels.com or other hotel websites. "…Investing in a mobile app and mobile check-in experience has been essential to driving customers to book their stays through Marriott rather than online travel firms", says Bruce Hoffmeister, CIO with Marriott.
And it doesn't stop there. Prior to the deal, Marriott announced plans to let customers log in to their Netflix accounts from their room TVs and may also offer wireless charging, and Starwood is experimenting with sensors and is also planning to expand the use of its robotic butler which currently operates at its Cupertino Aloft hotel.
A merger of this magnitude will definitely have ripple effects throughout the industry in the form of new customer expectations. How is your hotel gearing up for the evolution in guest experience expectations?