The Impact of Guest Feedback & Online Reviews In The Hospitality Industry
In December of 2013, TripAdvisor commissioned PhoCusWright to conduct a study on the impact reviews have on travelers' decision-making. If you are in any way connected to the hotel industry the following will not surprise you:
83% of respondents indicated that reviews help them pick the right hotel

80% read at least 6 – 12 reviews prior to booking

53% won't commit to a booking until they read reviews
I looked for a more recent study – this was done about 3½ years ago – to see if there has been any change. Sadly, TripAdvisor has not paid PhocusWright any more money to research the obvious. But you can find hospitality industry surveys that will tell you that reviews are alive and well and still have a big influence on our purchasing decisions. Every prudent hotel takes the time to monitor TripAdvisor and respond to any review of their property – whether to thank the reviewer, or apologize. This activity is like insurance – it isn't going to get you more business, but it may help you from losing it.

Besides responding, those same hoteliers are also watching the reviews to get a better understanding of the real (or perceived) problems at their hotels. Many a broken shower or rude staff member have been revealed and addressed through this process. But again, maintenance and repair helps you stop bleeding guest revenue but it doesn't bring it in.
So when we talk about the power of guest feedback and reviews, it tends to be a cautionary lesson. You must pay attention to the evil review or suffer the consequences. But that is short sighted. The REALLY smart hoteliers are looking at OTHER hotel reviews for ideas. People actually have as many positive things to say as negative and this can be a gold mine for the creative GM or asset manager. Let's look at some real life examples.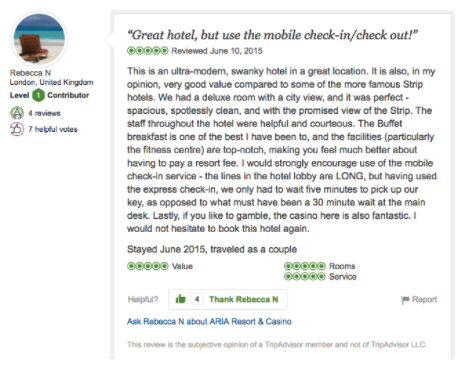 Well, it gives away the idea right in the title, "Great hotel, but use the mobile check-in/check out!" Okay, so of course we point out the mobile check-in, but the story here is about the power of reviews. We all know that positive reviews ensure revenue, but the power of this review is two-fold. First, it is a positive review that is promoting a unique experience that has profoundly elevated the guest's perception of the hotel. That is the power to positively influence purchasing decisions. Secondly, and less obviously, the review sends a message to other hoteliers. This is something guests want. Do you think Caesar's isn't noticing this? It is one thing to go to HITEC and see some new product – it is another when actual guests are independently promoting it on the most important hotel review site in the world. Reviews are powerful because they are a validation of consumer trends. That is the power to change an industry.
One more before you go: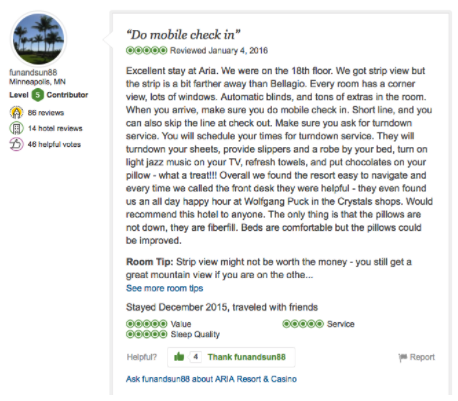 So don't think of these as reviews that are a pain and are just for maintenance and repairs. Think of these as your innovation lab and mine some great, revenue-generating ideas. It will transform your business.