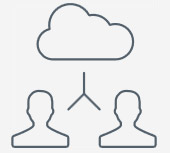 We live in a constantly connected world where guests and staff alike expect immediate responses to their concern. There's no excuse for not being constantly tuned in to the operations of your property, something that legacy property management software can't provide.
We built StayNTouch to solve this problem. Today's on-the-go property managers need a mobile-first PMS system that allows hoteliers and managers to connect with their staff from anywhere.
Freeing your team from the front desk is the first step to providing the personalized service and efficient response times that today's guests require.